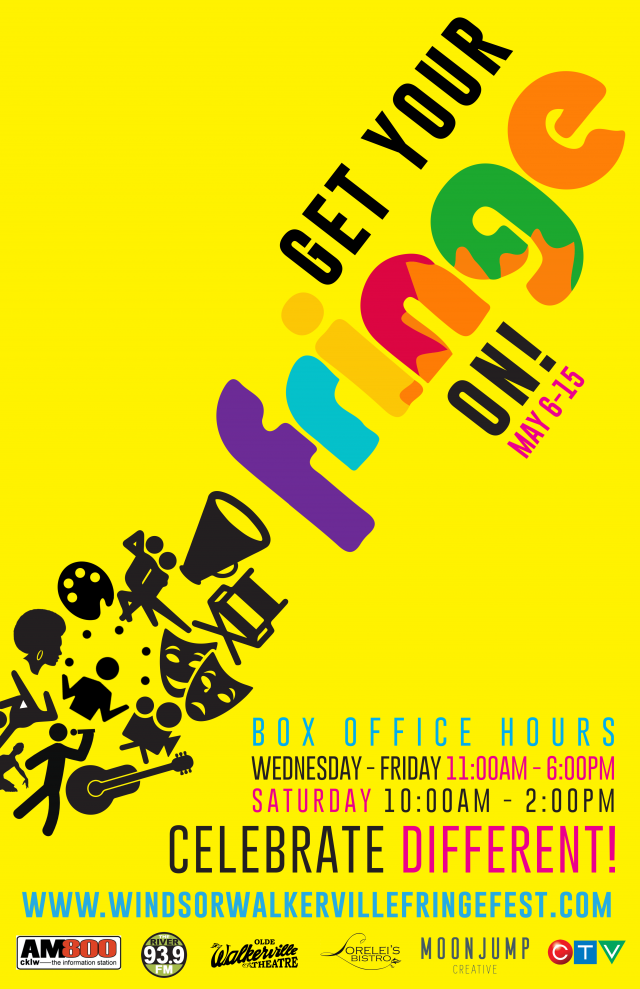 Fringe is back in Windsor with some amazing live theatre!
Shows Include:
Absolute Magic – Keith Brown
Allegory – Lakeshore Academy of Fine Arts
Anywhere But Here – Arts Collective Theatre & Windsor Youth Centre
Big Green Sky – Windsor Feminist Theatre
Brundibar – Music Moves Kids
Stand Up Comedy – Comedy Quarry
(in)decision – Tamlynn Bryson
Pirate – Mauro Primorac
The Resolution – John Viscount & Barry Brodie
Things My Fore-Sisters Saw – Leslie McCurdy
Try Falling – Joey Ouellette
Battle of the Bands
The Fringe Fest kicks off with opening ceremonies on May 5 and runs through May 15 at the Olde Walkerville Theatre, the new Garage Door Theatre and Shō Art, Spirit & Performance Theatre. You must purchase a $5 Fringe Button to see any show. The button supports the festival so that 100% of ticket sales supports the artists.
Fringe is an international network of indie theatre festivals. Its mandate is to afford all artists the opportunity to produce their art, regardless of content, form or style and to make the event as affordable and accessible to the community as possible.
Tickets & buttons can be purchased at the Olde Walkerville Theatre or Shō Art, Spirit & Performance Theatre during regular box office hours or before a show. Ticket prices vary by show with adults $10 – $12 and youth (under 16) $5. For a full schedule of shows, please visit our website at windsorwalkervillefringefest.com.
Location
Olde Walkerville Theatre
1564 Wyandotte Street East
Windsor, Ontario