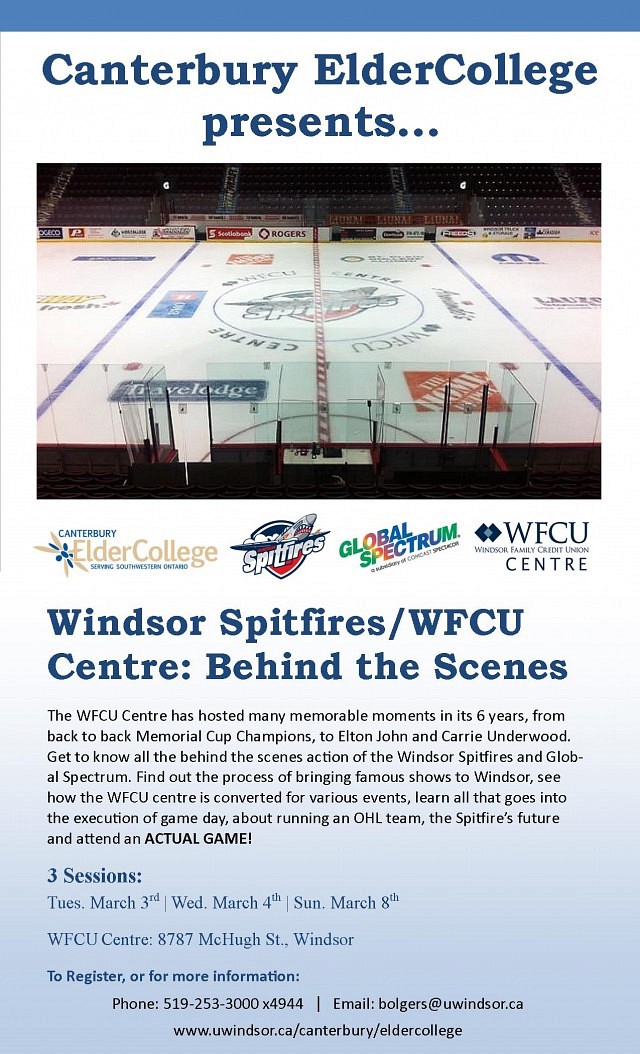 The WFCU Centre has hosted many memorable moments in its 6 years, from back to back Memorial Cup Champions, to Elton John and Carrie Underwood.
Join the Canterbury ElderCollege crew as we investigate all the behind the scenes action of the Windsor Spitfires and Global Spectrum.
This fun and entertaining course is held over three days:
Tuesday March 3, 10am-12pm:
Learn the process of bringing famous shows like Jerry Seinfeld to Windsor. Also learn how the WFCU Centre itself is converted for various events.
Wednesday March 4, 1pm-3:30pm:
Meet Head Coach, Bob Boughner and GM, Warren Rychel and hear them talk about running an OHL team, the cycle of junior hockey, Memorial Cup Championships, the present team and the team's future. Also catch a glimpse of the Spitfires' practice.
Sunday March 8, 2:05pm-5pm
Game Day! Windsor Spitfires vs. Oshawa Generals. Former Spitfire player and Coach, DJ Smith, is now the head coach of the Oshawa Generals. Be there as he returns to the WFCU Centre to face the Spitfires.
Price of Course: $43.25 (Includes cost of ticket and tax)
Canterbury ElderCollege provides learning opportunities for older adults who wish to enrich their lifestyle through active involvement, education, and contribute to the social and cultural development of their communities.
Location
WFCU Centre
8787 McHugh Street
Windsor, Ontario