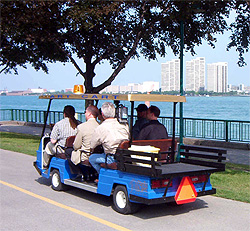 Hop on board the Windsor Sculpture Park's Art Cart for a free tour of the beautiful riverfront parks.
Private art cart tours are also available for a fee of $50.00 for a maximum of five people and walking tours for larger groups at a cost of $3.00 per person with a minimum fee of $45.00. The fee-based tours require reservations by calling 519-253-1812 or emailing [email protected] Fee based tours are offered outside of public tour hours.
Hop on the cart at the foot of Ouellette Avenue at the Detroit River 11am to 5pm.
Location
Foot of Ouellette Avenue
Windsor, Ontario