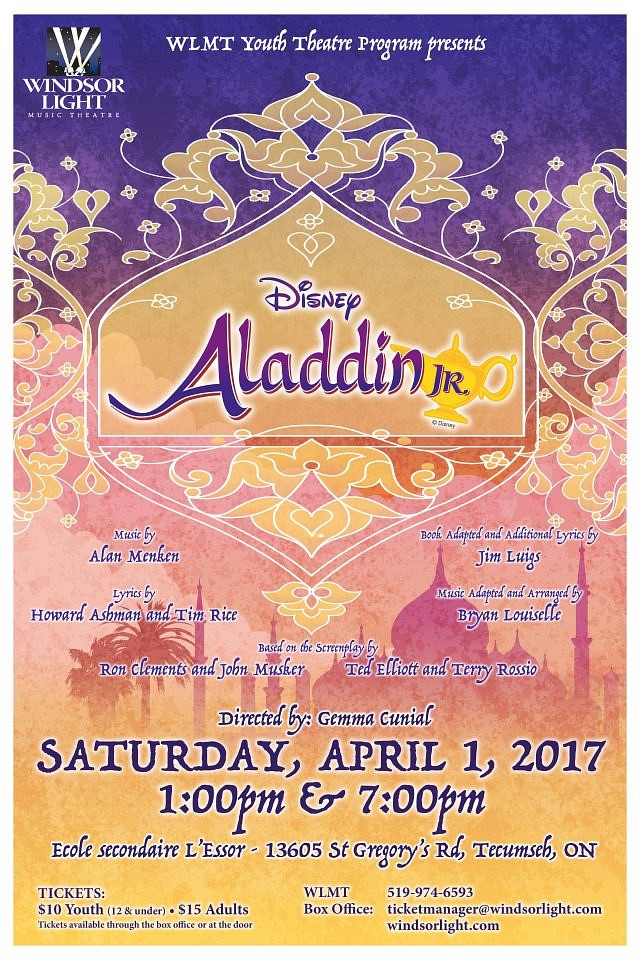 Based on the iconic animated film, with an Academy Award-winning score by Alan Menken, Howard Ashman and Tim Rice, Disney's Aladdin JR. is sure to send audiences soaring on a flying carpet ride filled with romance and adventure.
When the street urchin, Aladdin, vies for the attention of the beautiful princess, Jasmine, he uses a genie's magic power to become a prince in order to marry her. Iago, Jafar, the Genie and more are here in Disney's Aladdin JR., a musical adventure filled with magic, mayhem and the power of love.
Hop aboard our magic carpet as Windsor Light Music Theatre takes you back in time to ancient Agrabah in it's 2017 Youth Production of "Disney's Aladdin Jr."! Join us as this classic fairy tale comes alive on stage featuring 40 youth performers between the ages of 8 and 16. Featuring beloved numbers like "Friend Like Me", "One Jump Ahead", and of course, "A Whole New World", this all-new performance is fun for the whole family. This mystical production takes the stage at Ecole secondaire l'Essor on Saturday, April 1, 2017 at 1 pm and 7 pm. Adult Tickets are $15 and Youth (12 and under) are $10 and can be purchased through the Windsor Light Music Theatre Box Office. You won't want to miss this age-old story of magic, mistaken identity, and overcoming obstacles that will make you believe that wishes come true.
WLMT Presents "Disney's Aladdin Jr."
Saturday, April 1, 2017 @ 1 pm and 7 pm
Directed by Gemma Cunial
Location
École Secondaire l'Essor
13605 St. Gregory Road
Tecumseh, Ontario