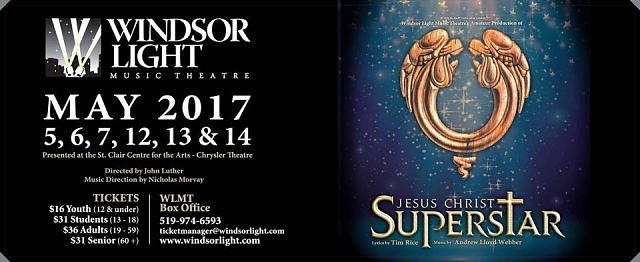 It seems especially fitting that the first rock opera, created as a concept album at the end of the turbulent '60s, should have at its center a social and political rebel. Jesus' meteor-like rise in renown provides, as the title suggests, a parallel to contemporary celebrity worship. As his radical teachings are evermore embraced, Judas increasingly questions the enlightened motives of this new prophet, resulting in betrayal. Christ's final days are dramatized with emotional intensity, thought-provoking edge and explosive theatricality. Propelled by a stirring score, by turns driving and majestic, satirical and tender, JESUS CHRIST SUPERSTAR illuminates the transcendent power of the human spirit with a passion that goes straight to the heart.
JESUS CHRIST SUPERSTAR is coming to the St. Clair College Centre for the Arts May 5, 6, 7 and 12, 13, 14 2017 with Evening Shows at 8:00 p.m. and Sunday Matinees at 2:00 p.m.
Ticket prices:
Youth (12 and under) $16.00
Student (13 – 18) $31.00
Adult (19 – 59) $36.00
Senior (60+) $31.00
Group rates of 20 + are available.
Call the Windsor Light Music Theatre Box Office for further information: 519 974 6593
Location
St. Clair Centre for the Arts - Chrysler Theatre
201 Riverside Drive West
Windsor, Ontario