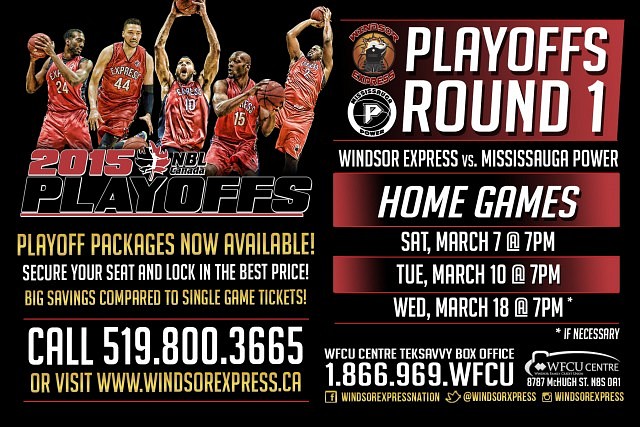 The Windsor Express have released their schedule for the 2015 National Basketball League of Canada Quarterfinal playoff series.
The Express will face the Mississauga Power for the second year in a row, after finishing with the NBL's best record.
The quarterfinal series schedule is as follows:
Game 1 – Saturday, March 7th at WFCU Centre
Game 2 – Tuesday, March 10th at WFCU Centre
Game 3 – Thursday, March 12th at Hershey Centre
Game 4 – Tuesday, March 17th at Hershey Centre (if necessary)
Game 5 – Wednesday, March 18th at WFCU Centre (if necessary)
All games will be played at 7:00pm.
Last season, the Express swept the Power in three straight games, on their way to their first NBL Championship.
2015 Windsor Express Playoff packages are available at www.windsorexpress.ca or by calling 519.800.3665
Like Us on Facebook at www.facebook.com/WindsorExpressNation
Follow us on Twitter @WindsorXpress
Location
WFCU Centre
8787 McHugh Street
Windsor, Ontario