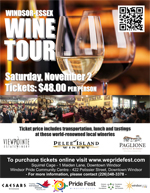 Join us for a great wine tour visiting three great Essex County wineries. The ticket includes transportation to and from the wineries, wine tastings, lunch and door prizes.
Wineries include: ViewPoint Estate Winery, Pelee Island Winery and Paglione Estate Winery
Boarding begins: 10:15am
Bus Departs: 10:45am
Location: Devonshire Mall (Sears parking lot against the EC Row Expressway)
Tickets: $48.00 per person
To purchase online visit http://www.eventbrite.ca/event/8898356223/eorg
To purchase manually, please visit the Windsor Pride Community Centre at 422 Pelissier Street.
The region is a winemaker's paradise blessed with exceptional soil conditions and a regional climate which offers longer sun hours than any other area in Canada. As Canada's most southern point, we are fortunate to have a climate well suited for lush farmlands, giving us one of the most agriculturally productive counties in the country. Essex County gives you the opportunity to experience our local flavor. Enjoy fresh-picked fruits and vegetables along with an abundance of fresh flowers – all grown locally. Amongst the sparkling waters and fertile soils of Essex County farmers harvest a complete basket of wholesome, delicious food from every letter of the alphabet. Deep reds, crisp whites, delicate ice wines – at any one of our many wineries the swirl of the glass sets your story in motion – here in Windsor Essex Pelee Island.
Sponsored or supported by Caesars Windsor, Tourism Windsor-Essex and Pelee Island, Travel Gay Canada and the Ontario Trillium Foundation.
Proceeds benefit the Windsor-Essex Pride Fest and the Windsor Pride Community Centre.
Location
Devonshire Mall (Depart from Sears parking lot)
3100 Howard Avenue
Windsor, Ontario