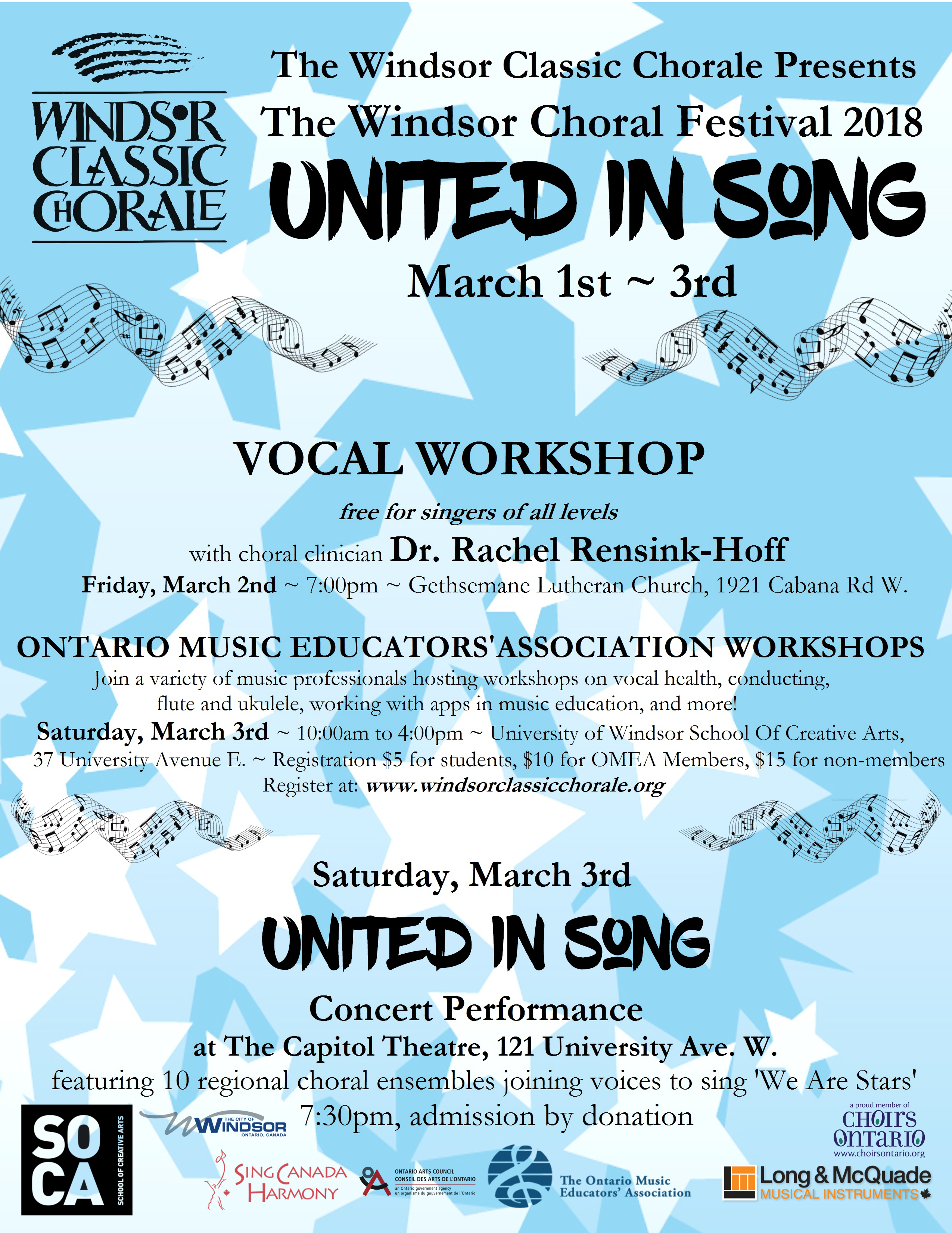 The Windsor Classic Chorale Presents
The Windsor Choral Festival 2018
United In Song
Concert Performance
Saturday, March 3rd
at The Capitol Theatre
7:30pm, Admission By Donation
Choral groups from across Windsor-Essex present United In Song,
a concert performance featuring repertoire selected by their conductors and music directors.
Each choral group will sing pieces crafted in workshop sessions with special guest choral clinician Dr. Rachel Rensink-Hoff.
The choirs join voices for a massed choir finale singing
Kenley Kristofferson's We Are Stars
University of Windsor Choirs
Sun Parlour Barbershop Chorus
Chatham Kent High School Choir
Windsor Classic Chorale
Windsor Symphony Orchestra Chorus
La Chorale du Tricentenaire
County Classic Chorale
Windsor Community Choir
Windsor-Essex Youth Choir
unite together in song celebrating choral music with hundreds of regional voices on stage!
The Windsor Choral Festival also includes special workshop sessions with each choir with guest choral clinician Dr. Rachel Rensink-Hoff taking place from March 1st through March 3rd. Dr. Rensink-Hoff also leads a free vocal workshop for the public Friday, March 2nd at Gethsemane Church, 1921 Cabana Rd W, at 7:00pm followed by a public reception.
The Windsor Choral Festival has partnered with the Ontario Music Educators Association to host special music education sessions alongside the choral clinics on a variety of topics.
Full details and registration information is at:
Windsor Choral Festival
Location
Capitol Theatre
121 University Avenue West
Windsor, Ontario