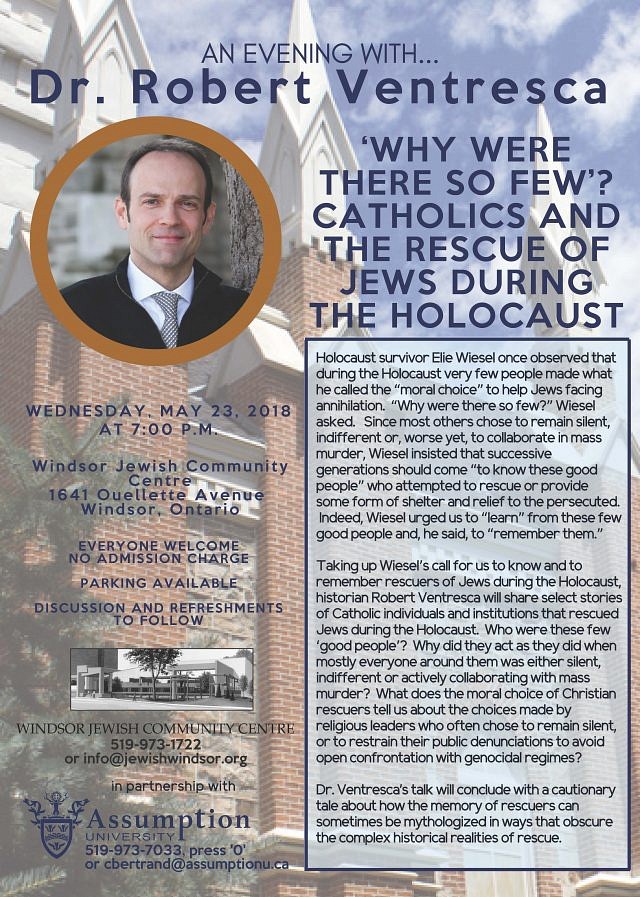 Dr. Robert Ventresca will speak on'WHY WERE
THERE SO FEW'? CATHOLICS AND THE RESCUE OF JEWS DURING THE HOLOCAUST
Holocaust survivor Elie Wiesel once observed that during the Holocaust very few people made what he called the "moral choice" to help Jews facing annihilation. "Why were there so few?" Wiesel asked. Since most others chose to remain silent, indifferent or, worse yet, to collaborate in mass murder, Wiesel insisted that successive generations should come "to know these good people" who attempted to rescue or provide some form of shelter and relief to the persecuted. Indeed, Wiesel urged us to "learn" from these few good people and, he said, to "remember them."
Taking up Wiesel's call for us to know and to remember rescuers of Jews during the Holocaust, historian Robert Ventresca will share select stories of Catholic individuals and institutions that rescued Jews during the Holocaust. Who were these few 'good people'? Why did they act as they did when mostly everyone around them was either silent, indifferent or actively collaborating with mass murder? What does the moral choice of Christian rescuers tell us about the choices made by religious leaders who often chose to remain silent, or to restrain their public denunciations to avoid open confrontation with genocidal regimes?
Dr. Ventresca's talk will conclude with a cautionary tale about how the memory of rescuers can sometimes be mythologized in ways that obscure the complex historical realities of rescue. This is a free event open to the public.
Location
Windsor Jewish Community Centre
1641 Ouellette Ave.
Windsor, Ontario