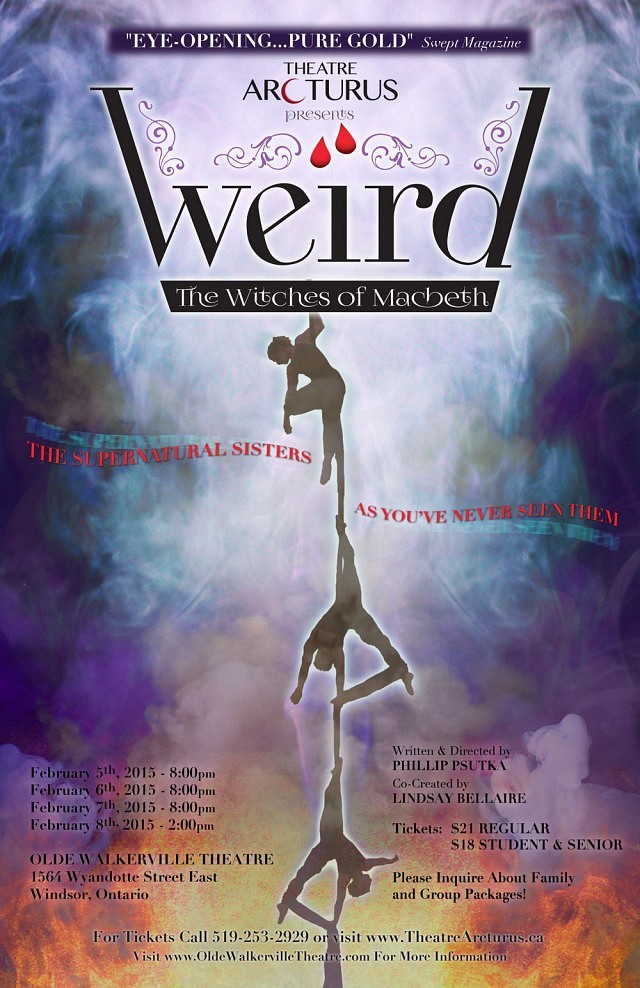 "Eye-opening…Pure Gold." – Swept Magazine
"A stellar show…excellent." – Duncan Fremlin, Whiskey Jack
After a successful premiere in Toronto, Theatre Arcturus is bringing their spectacular, family-friendly show Weїrd to the Olde Walkerville Theatre. A groundbreaking mix of aerial arts, stage combat, original text and Shakespeare, Weїrd focuses on the Witches from Macbeth.
Weїrd explores the story of Macbeth from the Witches' perspective—how their mistakes trigger the events of Shakespeare's tragedy and what they must do to mend it. Weїrd opens up vertical space as the witches climb, twist and move through aerial silks, using them to conjure the haunting forces within the play.
Step into their world and witness the supernatural sisters as you've never seen them before.
Written & Directed by Phillip Psutka
Co-Created by Lindsay Bellaire
Cast: Lindsay Bellaire, Lindsay Sippel Eitzen, Polly Phokeev
Regular Price Tickets: $21
Student Tickets: $18
**STUDENT, FAMILY & GROUP RATES call: 519-253-2929**
Buy Online: http://bpt.me/975555
ABOUT THE COMPANY
Theatre Arcturus is a performing arts company dedicated to the creation of unique, imaginative and highly physical shows. We draw from elements of theatre, dance, circus, aerial arts, stage combat and other disciplines to push boundaries and explore the endless ways to tell a story.
Follow us on Facebook & Twitter for special deals on tickets & events!
Location
Olde Walkerville Theatre
1564 Wyandotte Street East
Windsor, Ontario