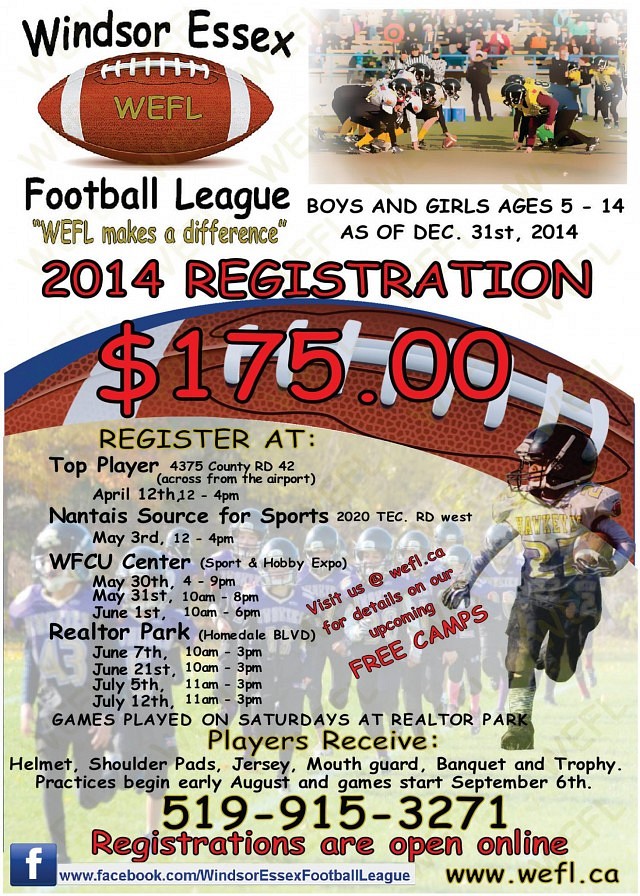 Registration Information
Boys and Girls ages 5-14 As of December 31, 2014.
Birth Certificates of players must be present at the time of registration.
Payment Options: Cash, Debit, Visa, MasterCard, Cheques or payment plan
Registration Also Available Online at www.wefl.ca
Frequently Asked Questions
How much is Registration?
$175.00 per player
How long is the season?
August-November 2014
Is there an equipment deposit?
No. Players will receive a helmet, shoulder pads and one mouth guard.
When will my child receive their equipment?
All players will be notified prior to their first practice.
Is there a discount for families with more than one child?
WEFL is in its third season and unfortunately cannot offer discounts at this time.
Where are the games played?
All games are played at Realtor Park on Homedale Blvd, Windsor, Ontario
Where are practices located?
Practices will be located close to your residential area.
What additional equipment is necessary for my child to play?
Players are responsible to have football cleats, pants, socks, and mouth guard
Volunteer Opportunities
Students may obtain their mandatory Volunteer Service Hours!!
Current Available Positions:
– Head Coaches
– Assistant Coaches
COACHES PLEASE REGISTER ONLINE AT www.wefl.ca
Game Day Volunteers
– Concession Sales
– 50/50 Ticket Sales
– Sticks
– Clocks
– Field Set Up
– Field Tear Down
There are various Committees and other areas that you can assist WEFL!
CONTACT INFORMATION
1473 Marentette Ave.
Windsor, Ontario
N8X 4E2
Phone: 519-915-3271
Website: www.wefl.ca
Location
Top Player
4375 County Road 42 #2
Windsor, Ontario