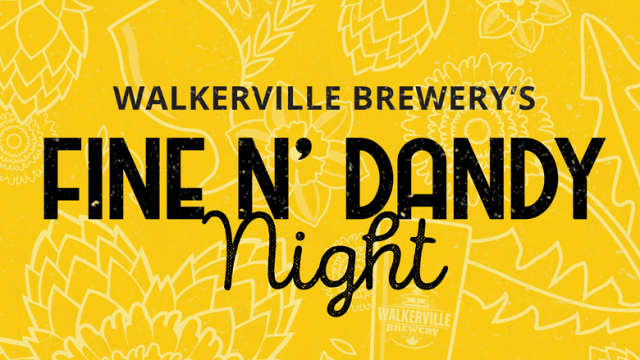 Come on out to our 2nd annual Fine n' Dandy Night in support of Canadian Cancer Society and enjoy:
► Fine N' Dandy Dandelion Pilsener Casks
► Bites available by Black Magic Culinary Creations
► Entertainment by Colton Summers Young
► Fine N' Dandy t-shirts available for $20
► Dandelion (tea) talks and tasting by Simon Steeps wsg. Dr. Elizabeth Yaworsky, BSc, ND
All proceeds from Fine N' Dandy t-shirt and cask sales will be donated to Canadian Cancer Society! Wear YELLOW and show your support for a great cause!
▼▼▼▼▼▼▼▼▼▼▼▼▼▼▼▼▼▼▼▼▼▼▼▼▼▼▼▼▼▼
The Fine N' Dandy project, a collaboration with Walkerville Brewery and Craft Heads Brewing Company, will continue to live on in memory of brewer Jeffrey Craig. For more information on the Fine N' Dandy project, please visit: www.walkervillebrewery.com/fine-n-dandy
Location
Walkerville Brewery
525 Argyle Rd.
Windsor, Ontario