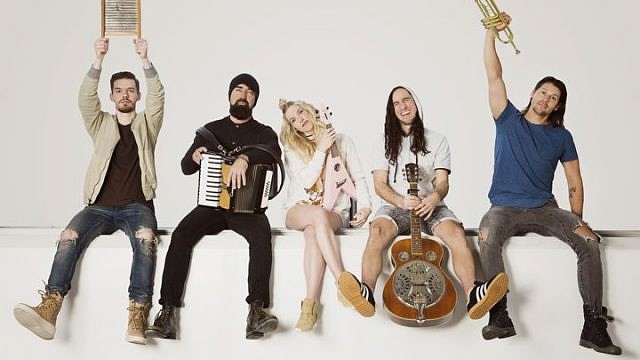 The platinum-selling, folk-pop Canadian band Walk Off The Earth is on the road after a three year hiatus with a 2018 European, making their ONLY Canadian stop at Caesars Windsor on Thursday, February 22 at 8 pm for an ALL AGES show.
Walk Off The Earth is an unconventional, multi-talented five-piece musical phenomena has taken the world by storm. Based in Burlington, Ontario, their brilliant 5-people-playing-one-guitar interpretation of Gotye's "Somebody That I Used To Know" exploded on Youtube garnering well over 35 million views in under 2 weeks. The massive fan response quickly drew attention to their collection of innovative songs and videos spanning their last 5 years and generated an unprecedented flood of media interest. New fans from around the world immediately fell in love with the band's organic, independent, sincere and honest original songwriting, cover interpretations and beautifully filmed videos.
Following this success, Walk Off The Earth has released a total of six studio albums embarked on European and North American tours and received the 2016 Juno Award for Group of the Year. The chemistry between the band members is undeniable. Ryan Marshall, Sarah Blackwood and Gianni Luminati's individual vocal stylings mesh seamlessly with Mike Taylor's haunting harmonies and keys all the while soaring over epic melodic arrangements held together by Joel Cassady's driving and prolific percussion work. Their independent spirit, unstoppable work ethic and awe-inspiring creativity has catapulted Walk Off The Earth into new and uncharted waters with only bigger and better things on the horizon.
Sale Dates and Times:
Public Onsale : Sat, 2 Dec 2017 at 12:00 PM
Total Rewards Presales : Sun, 26 Nov 2017 at 12:00 PM
Facebook Presale : Wed, 29 Nov 2017 at 10:00 AM
Windsor Spitfires Presale : Wed, 29 Nov 2017 at 10:00 AM
Ticketmaster Internet Presales : Wed, 29 Nov 2017 at 12:00 PM
University and College Presale : Wed, 29 Nov 2017 at 12:00 PM
Backup Presale : Sun, 26 Nov 2017 at 12:00 PM
Official Platinum Seats : Sun, 26 Nov 2017 at 12:00 PM
Location
Caesars Windsor
377 Riverside Drive East
Windsor, Ontario