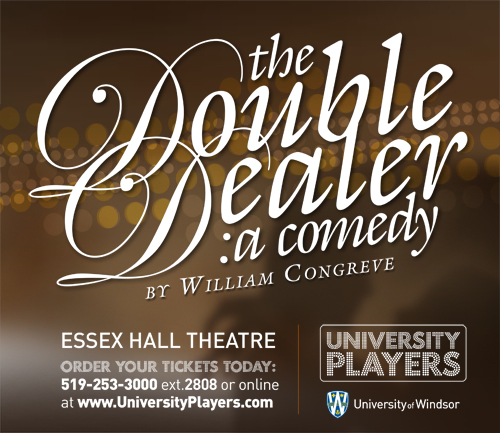 The Double Dealer: a comedy, is a fast-paced spectacle of extravagant costumes and outrageous behavior. It features a resourceful villain, love, marriage, and adulterous relationships, proving that life in high society of the 1690s was anything but boring.
Machiavellian treachery and romantic knavery are centre stage when Maskwell, plotting to marry into money, joins forces with Lady Touchwood to break up the match between the innocent lovers Cynthia and Mellefont. Cheating wives, jealous husbands, conniving rivals and foolish fops make for a witty comedy of manners where no one but the two young betrothed is what he or she seems.
"Tho' marriage makes man and wife one flesh, it leaves 'em still two fools." – William Congreve, The Double Dealer
PERFORMANCE DATES
April 1, 2, 3, 2016
April 6, 7, 8, 9, 10, 2016
Wednesday through Saturday performances are at 8 p.m.
Saturday and Sunday matinees are at 2 p.m.
TICKETS
$19-21; $8 UWindsor students;
Purchase online at www.UniversityPlayers.com or by phone 519-253-3000 ext. 2808
Essex Hall Theatre is on the University of Windsor campus.
Location
Essex Hall Theatre
University of Windsor, 401 Sunset Avenue
Windsor, Ontario