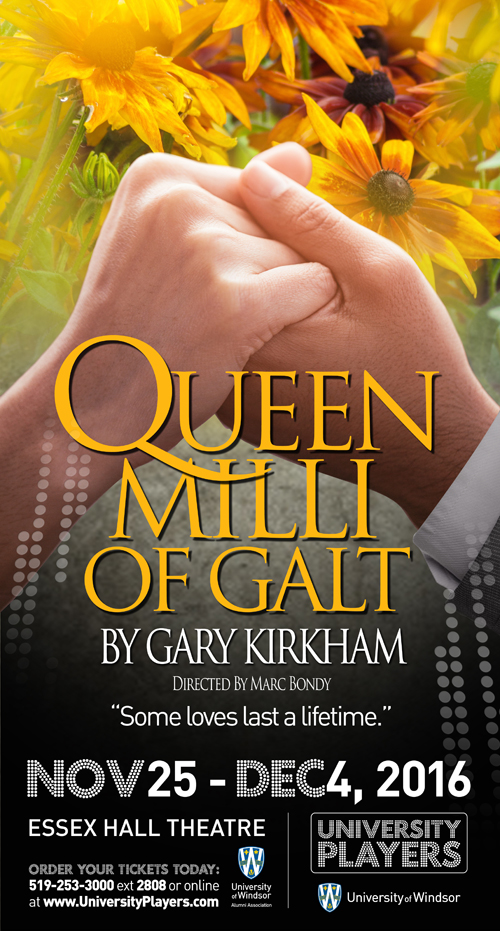 Romantic Comedy-Drama.
A charming and warm romantic comedy based on a true story. After the death of the Duke of Windsor (Edward VIII) in 1972, an 80 year-old woman from Galt, Ontario, had her tombstone engraved, naming herself as his wife. The tale begins when the handsome Prince visits Galt, in the autumn of 1919, and meets the feisty and irresistible young Milli. Gary Kirkham delivers a touching and funny romance proving that some loves last forever.
"A breezy, witty, warmly romantic piece of theatre." – Robert Mitchell
• Winner! 2004 Samuel French Canadian Playwriting Contest
PERFORMANCE DATES
November 25, 26, 27, 30, 2016
December 1, 2, 3, 4, 2016
Wednesday through Saturday performances are at 8 p.m.
Saturday and Sunday matinees are at 2 p.m.
TICKETS
$19-22; $8 UWindsor students; $5 for youth with full adult ticket
Group rates available.
Purchase online at www.UniversityPlayers.com or by phone 519-253-3000 ext. 2808
Essex Hall Theatre is on the University of Windsor campus.
Location
Essex Hall Theatre
Wyandotte at Sunset
Windsor, Ontario