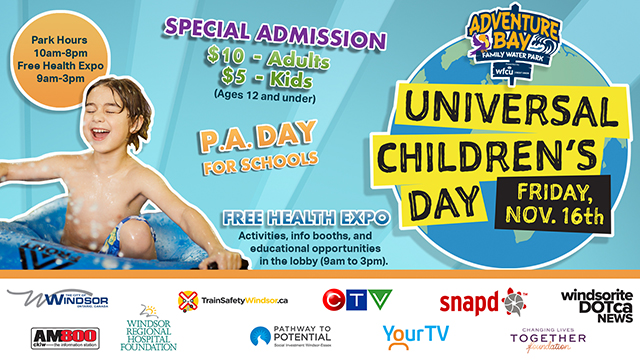 Adventure Bay Family Water Park Presented by WFCU Credit Union invites you to our annual celebration of Universal Children's Day on Friday, November 16, 2018. Enjoy special admission, activities and more. The international day of recognition for children across the globe will be celebrated at Adventure Bay during a P.A. Day for local schools.
The park will be open from 10am to 8pm with special admission of $10 for adults and $5 for kids age 12 and under (kids 2 and under are always free), thanks in part to sponsorships from TrainSafetyWindsor.ca, CTV, snapd Windsor, WindsoriteDOTca, AM800 CKLW, Windsor Regional Hospital Foundation, Pathway to Potential, YourTV and the Changing Lives Together Foundation.
Once again this year, visitors can also enjoy a free Health Expo with activities, info booths, and educational opportunities in the lobby from 9am to 3pm. The expo will feature helpful tips for parents, activities for kids and more, all on the theme of children's health and wellbeing.​
Location
Adventure Bay Family Water Park Presented by WFCU Credit Union
401 Pitt Street West
Windsor, Ontario