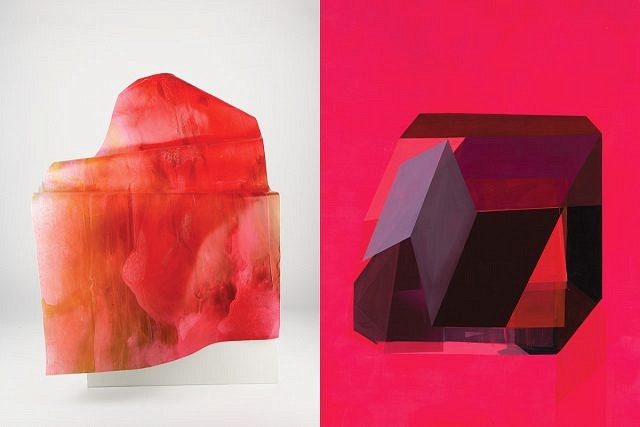 "Unfolding: Antonietta Grassi and Katherine Pickering"
June 30 – July 29, 2017
Opening Reception: Friday, June 30, 7pm at Artcite, Inc.
w/ artists in attendance
Artcite Gallery hours: Wed. – Sat, 12:00 – 5:00 pm
Unfolding pairs the work of two painters with dissimilar but complimentary approaches to the medium. Antonietta Grassi uses the traditional form of the canvas to explore ideas of spatial memory and the destructive nature of time, using distorted geometric forms as exploratory tools. Her paintings aim to suggest that memories can "produce fleeting blueprints for structuring the present". Katherine Pickering's work explores an alternative narrative of painting, using the material qualities of paint as a formal tool and reversing the traditional relationship between paint and canvas. This allows the work to inhabit the realm between painting and sculpture, as the material normally used to support a medium is now being supported by this very medium.
KATHERINE PICKERING – STATEMENT
For the last few years I've been spending a lot of time in dark places. I take walks at night and in my studio I make work that explores the experience of looking at darkness.
We don't always use our vision in creative ways and this can limit how we perceive the world around us. My recent work is, in part, an attempt to investigate – and indeed challenge – these limits.
At night, a lack of vision is made up for through a heightening of touch, hearing and kinaesthetic perception (the awareness of our bodies in space). Darkness often brings with it ambiguity, connotation and subjective judgement; it also has the potential to connect us to our imaginations and to our bodies in ways not available to us during the day. Attention to darkness requires a willingness to engage with uncertainty – a similar engagement is required when looking at abstract painting.
With abstraction, scale, colour and surface are often used to describe sound, movement and touch. In that sense, the material qualities of paint approximate a narrative apparatus, like that found in realism. In my recent work, the narrative of the painting is reversed: instead of the stretched canvas supplying the paint its support, it is the paint that holds the canvas in place and, as such, allows it its narrative.
ANTONIETTA GRASSI – STATEMENT
My work is about memory and space. Perhaps no memory being stronger than that associated with one's childhood home, my paintings reflect an emotional space that has been shaped by these memories and the passage of time. Having lost both of my parents within a short time frame, I was confronted with the task of emptying the home I had grown up in of its possessions. The psychological and physical impact of facing this process led me to explore fragments of deconstructed and nonsensical space through hollowed cubes and skewed geometric shapes. What was once a home was transformed into a disembodied shell filled with a flurry of emotions, symbolizing acts of removing, dismantling, discarding, detaching, remembering, and forgetting. My work reflects how these memories of the past produce fleeting blueprints for structuring the present, and how a delicate stability is attained through the solidity of color, shape and light.
Location
Artcite Inc.
109 University Ave W.
Windsor, Ontario