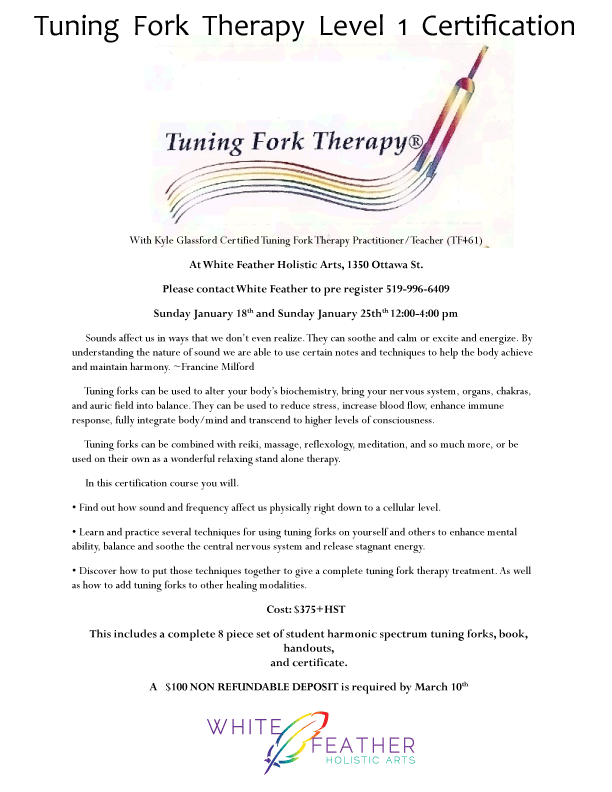 Tuning Fork Therapy Level I Certification
Facilitated by Kyle Glassford
Sounds affect us in ways that we don't even realize. They can soothe and calm or excite and energize. By understanding the nature of sound we are able to use certain notes and techniques to help the body achieve and maintain harmony. ~Francine Milford
Tuning forks can be used to alter your body's biochemistry, bring your nervous system, organs, chakras, and auric field into balance. They can be used to reduce stress, increase blood flow, enhance immune response, fully integrate body/mind and transcend to higher levels of consciousness.
Tuning forks can be combined with reiki, massage, reflexology, meditation, and so much more, or be used on their own as a wonderful relaxing stand alone therapy.
In this certification course you will:
• Find out how sound and frequency affect us physically right down to a cellular level.
• Learn and practice several techniques for using tuning forks on yourself and others to enhance mental ability, balance and soothe the central nervous system and release stagnant energy.
• Discover how to put those techniques together to give a complete tuning fork therapy treatment. As well as how to add tuning forks to other healing modalities.
Kyle Glassford is a Certified Tuning Fork Therapy Practitioner/Teacher (TF461)
Date: Sunday January 18th & Sunday January 25th 2015
Time: Noon – 4pm both days required.
Cost: $375 + hst
This includes a complete 8 piece set of student harmonic spectrum tuning forks, book, handouts, and certificate.
A $100 NON REFUNDABLE DEPOSIT is required by December 29th
Please contact White Feather Holistic Arts to Register by December 29th
519-996-6409
[email protected]
Location
White Feather Holistic Arts
1350 Ottawa Street
Windsor, Ontario