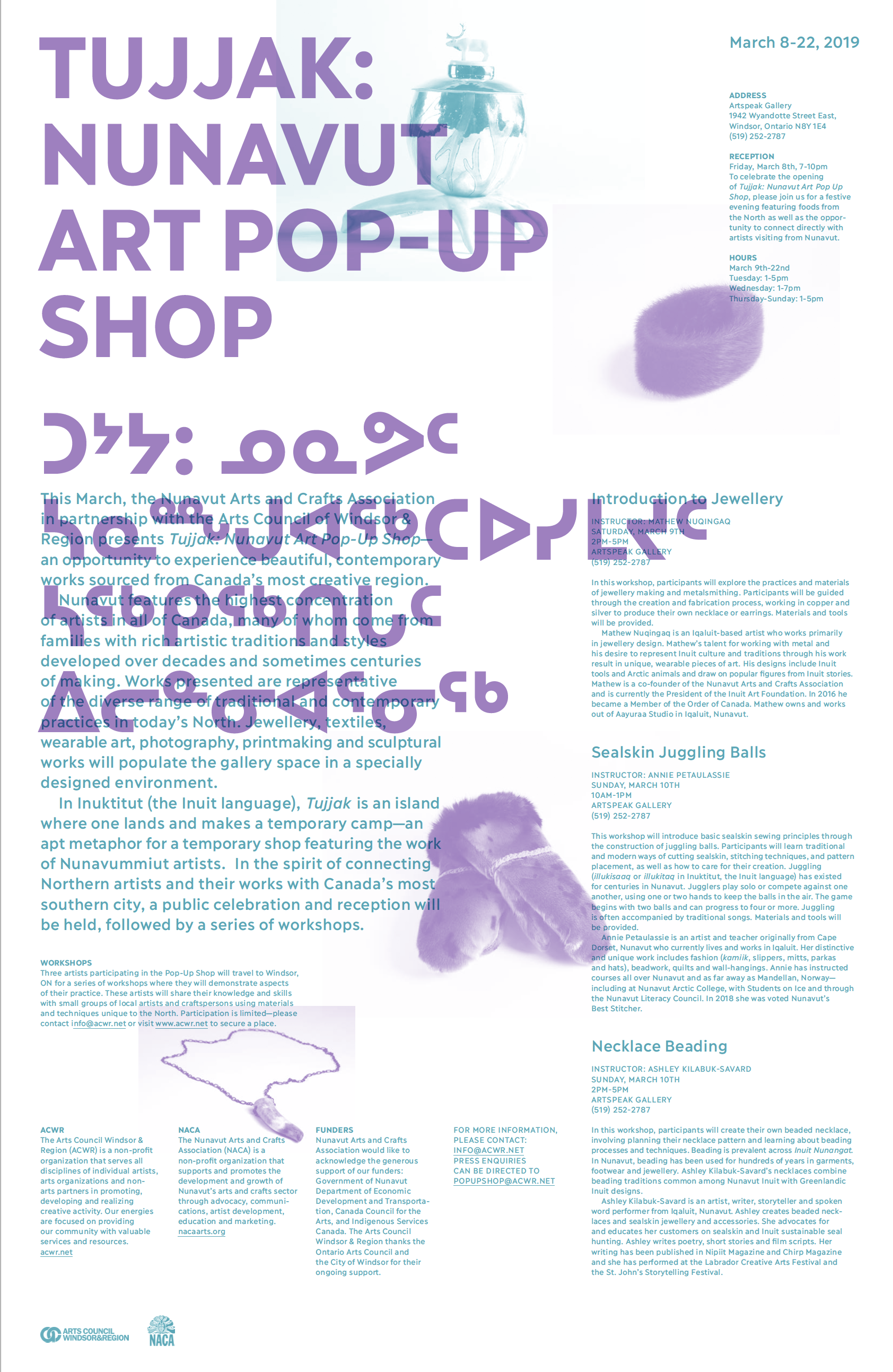 RECEPTION
Friday, March 8th, 7-10pm
To celebrate the opening of Tujjak: Nunavut Art Pop Up Shop, please join us for a festive evening featuring foods from the North as well as the opportunity to connect directly with artists visiting from Nunavut.
HOURS: March 9th-22nd
Tuesday: 1pm to 5pm
Wednesday: 1pm to 7pm
Thursday-Sunday: 1pm to 5pm
This March, the Nunavut Arts and Crafts Association in partnership with the Arts Council of Windsor & Region presents Tujjak: Nunavut Art Pop-Up Shop – an opportunity to experience beautiful, contemporary works sourced from Canada's most creative region.
Nunavut features the highest concentration of artists in all of Canada, many of whom come from families with rich artistic traditions and styles developed over decades and sometimes centuries of making. Works presented are representative of the diverse range of traditional and contemporary practices in today's North. Jewellery, textiles, wearable art, photography, printmaking and sculptural works will populate the gallery space in a specially designed environment.
In Inuktitut (the Inuit language), Tujjak is an island where one lands and makes a temporary camp – an apt metaphor for a temporary shop featuring the work of Nunavummiut artists. In the spirit of connecting Northern artists and their works with Canada's most Southern city, a public celebration and reception will be held, followed by a series of workshops.
Location
Artspeak Gallery
1942 Wyandotte Street East
Windsor, Ontario