Date
Thursday May 23rd, 2019
Time
See Description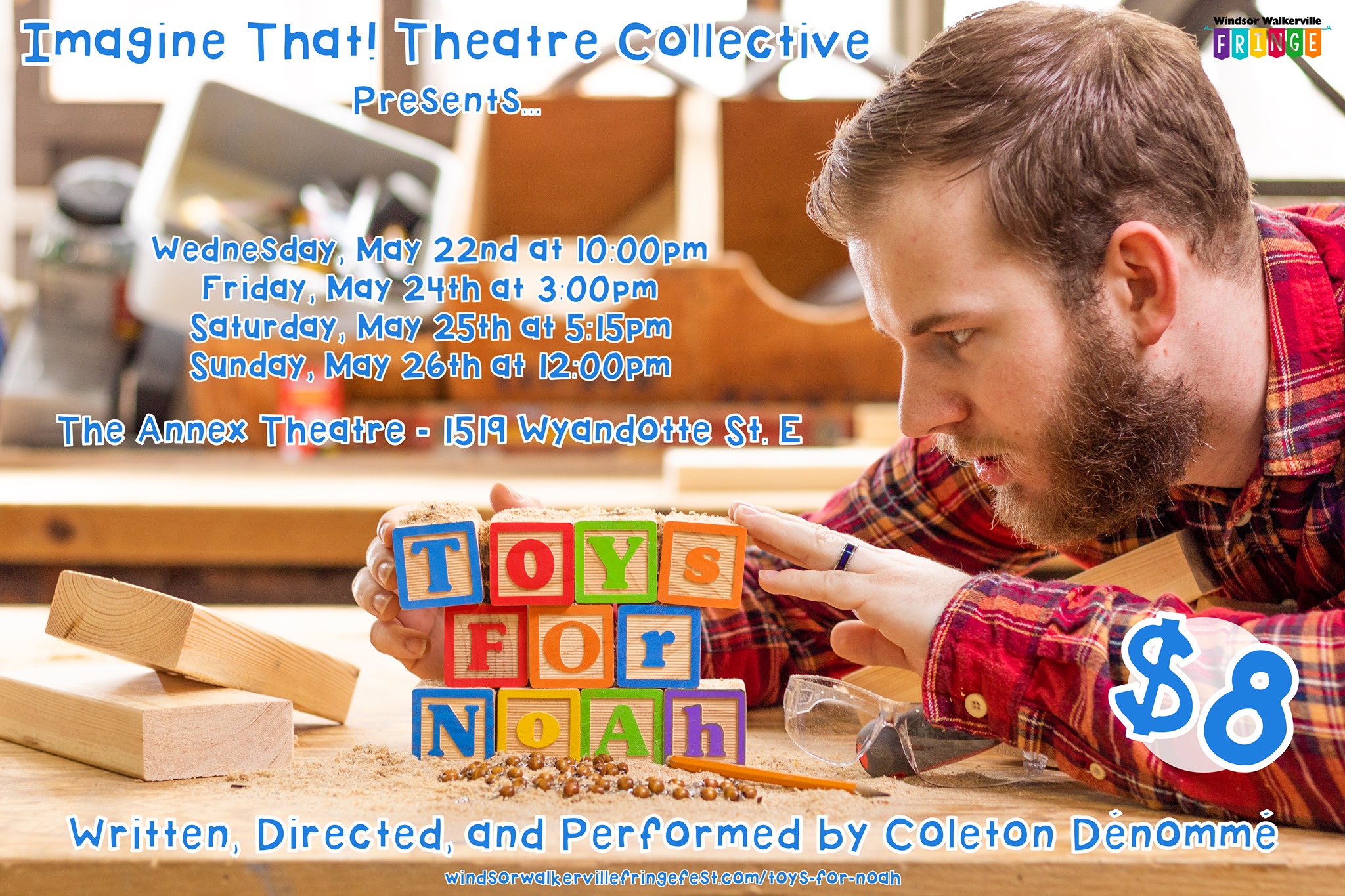 Imagine That! Theatre Collective is both proud and excited to present "Toys for Noah" written, directed, and performed by Coleton Dénommé as part of the 2019 Windsor-Walkerville Fringe Festival.
There will only be 4 performances, so make sure you don't miss your chance to catch this wonderful show.
Tickets are $8 each if bought at the box office, $9.50 if bought online. Also please remember that you will need to purchase a $5 Fringe button to attend. The proceeds from the button sales go towards running the festival and ensuring all artists and patrons are given a terrific experience!
Originally performed during the University of Windsor's Character Study 2018 presentations, the show has been expanded for the festival to include an even richer story.
A love-letter to family, parenthood, and growing up in rural French Ontario, Toys for Noah follows newlywed woodworker Joe Montferrand as he lets his young son, Noah, explore the family workshop for the first time. From lessons on toymaking, patience, and even a lesson on swearing, Joe tells his life story and walks his son through step-by-step instructions on how to be a good man – and in turn learns a few things about letting go and being a good father. A comedy/drama that will have you laughing and crying!
Performances at the Annex Theatre (1519 Wyandotte St E)
Wednesday, May 22nd at 10:00pm
Friday, May 24th at 3:00pm
Saturday, May 25th at 5:15pm
Sunday, May 26th at 12:00pm
The performance runs approximately 30 min.
For more info, and Online Tickets follow the link:
https://www.windsorwalkervillefringefest.com/toys-for-noah
Location
The Annex Theatre
1519 Wyandotte Street East
Windsor, Ontario