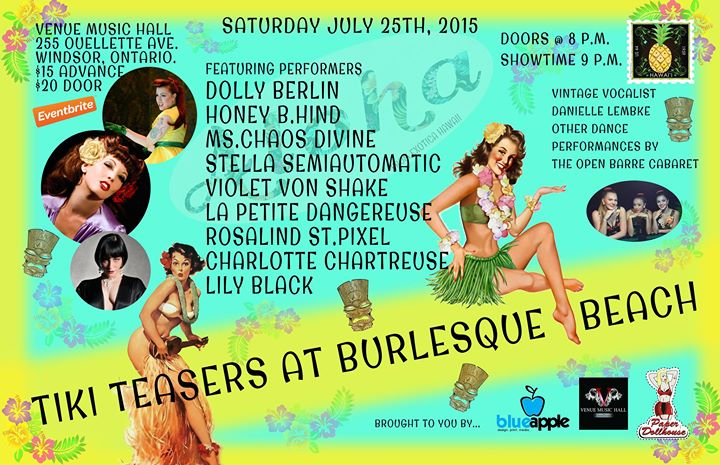 Imagine a beach party at a Tiki Exotica Resort where bikini's aren't required but tassels are! In the tropical paradise of Venue Music Hall for one night only, the girls of Windsor burlesque will twirl their grass skirts while you sip fruity drinks with little umbrellas.
Local ladies
Dolly Berlin Burlesque
Honey B.Hind
MsChaos Divine and
Stella Semiautomatic
will be returning to their hometown to perform, joined by Windsor beauties
La Petite Dangereuse
Violet Von Shake
Charlotte Chartreuse
Rosalind St. Pixel
Lily Black
as well as dance numbers by
The Open Barre Cabaret.
Almeh sisters of bellydance
Pole performance by Caita Clemerson
and of course or beautiful Vintage Vocalist Danielle Lembke.
Doors @ 8 p.m.
Showtime @ 9
Tickets available from your local bevy of burly babes as well as online
$15 in advance
$20 door
come see our table at THE ALLEY ART SHOW & SALE for your $2 dollar off coupon.
Location
Venue Music Hall
255 Ouellette Avenue
Windsor, Ontario