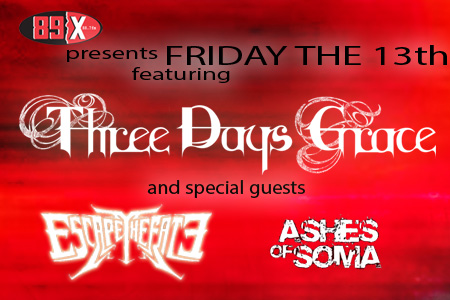 The WFCU Centre is preparing for a Rock n' Roll storm on Friday December the 13th when 89x brings Canadian rockers Three Days Grace to Windsor, with special guests Escape the Fate and Windsor's own Ashes of Soma as well as other guests to be announced at a later date. VIP Tickets are available for this show which include reserved front of stage passes, a reserved bathroom, reserved bar space and a limited edition poster.
Or you can rock out in a luxury suite for up to 15 friends starting at $500 plus tickets!
http://www.wfcu-centre.com/pages/luxury-suite-availability.html
THREE DAYS GRACE have been continually on the road this year in support of their Top 5 Top 200 Chart debuting album TRANSIT OF VENUS (RCA Records), which hit stores last October.
In addition to debuting at #5 on the Billboard Top 200 Album Chart, TRANSIT OF VENUS debuted at #1 on the Hard Rock Music Chart and #4 on the Digital Albums Chart. THREE DAYS GRACE embarked on new creative ground with their album TRANSIT OF VENUS, recording for the first time with acclaimed producer Don Gilmore (Linkin Park, Hollywood Undead, Bullet for My Valentine).
So join us at the WFCU for an unforgettable performance and a rockin' good time!
Location
WFCU Centre
7878 McHugh Street
Windsor, Ontario