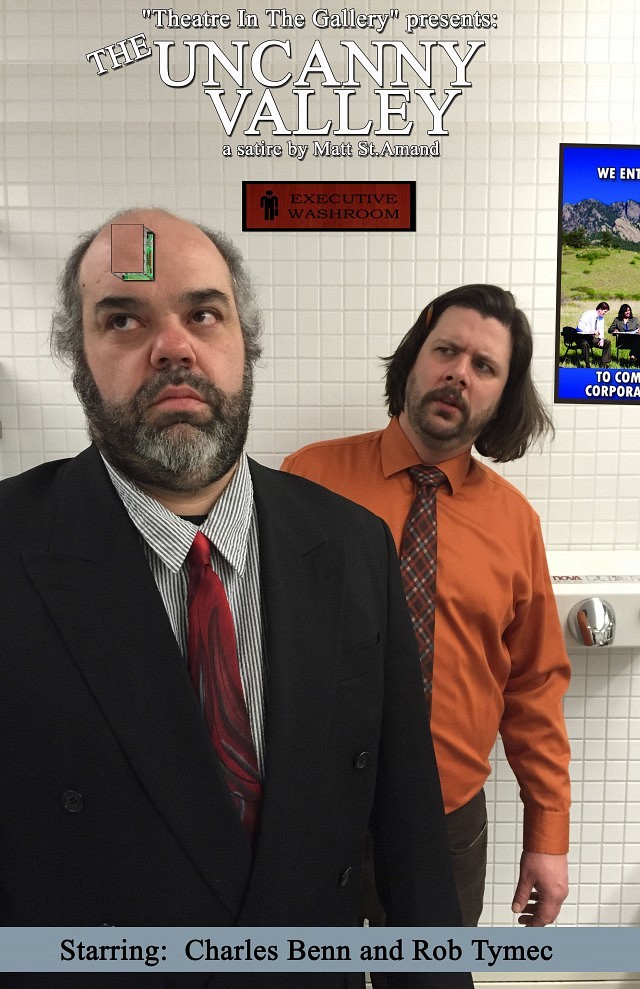 "Theatre In The Gallery" presents:
THE UNCANNY VALLEY
a satire by Matt St.Amand
Starring: Charles Benn
and
Rob Tymec
A dark version of "The Office"….
To be performed at: Walkerville Artist Co-op 1974 Wyandotte Street East. (across from Walter Kelly Funeral Home)
On: Saturdays, March 21st and 28th
Friday, March 27th
Performance Time: 8PM
Ticket Price: Adults – $15
Senior/Student – $10
Dobson from Auditing and Michaels from Documentation must spend their weekend at a corporate retreat. On the journey there, Michaels expounds upon his more cynical theories regarding middle-management. He explains to Dobson what the Krufticons are and illustrates their twisted relationship with a state of being that is commonly referred to as "The Uncanny Valley".
At the actual retreat, things take a turn for the worst. Disaster hits during a game of charades that pushes Dobson and Michaels deep into the dark underbelly of office politics. Michaels learns far more about business administration than he ever wants to know and Dobson might just be permanently scarred from the whole experience.
Will either of these men survive? More importantly, will they keep their jobs?!
Location
Walkerville Artists' Co-Op
1974 Wyandotte
Windsor, Ontario