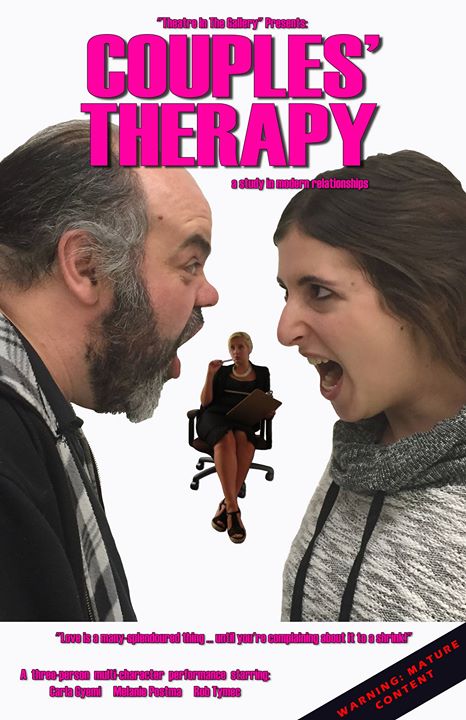 Theatre In The Gallery" Presents: COUPLES' THERAPY : a study in modern relationships
"Love is a many-splendoured thing … until you're complaining about it to a shrink!"
A three-person multi-character performance starring: Carla Gyemi, Melanie Postma, Rob Tymec
Ticket price: $15 adults
$10 students/seniors
Couples' Therapy follows three different troubled relationships all at once. If you're doing the math, that should take 6 performers to play all those couples, right? Well, there's only so much room in the gallery so, once more, the audience will need to use their imagination!
Three actors will sit at a couch and a chair. Each time they change positions, they become a new couple in need of treatment. There's Rose and Mick – an older couple who are struggling with fidelity problems. Crystal and Adam – a young couple who are experiencing a major communication breakdown. And then there's Matt and Kaitlyn – who really should just get a divorce!
All this bickering, however, is really starting to get to the therapist who is counselling them. If things aren't resolved soon, there could be a major boil-over that will change, forever, the way couples get professional help!
For more info call: 226 344 3814
or email: [email protected]
WARNING: MATURE CONTENT
Location
Walkeville Artist Co-Op
1974 Wyandotte Street East
Windsor, Ontario