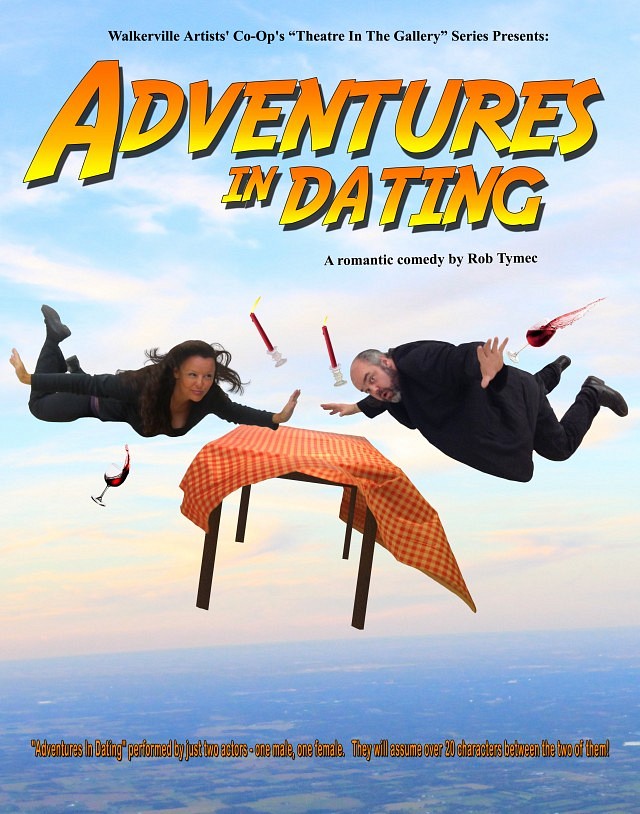 Walkerville Artist Co-Op's "Theatre In The Gallery" Series Presents:
Adventures In Dating
A romantic comedy by Rob Tymec
To Be Performed at: The Walkerville Artists' Co-Op, 1974 Wyandotte
Performance Dates: Saturday, September 20th and 27th and October 4th
Time: 8PM
Price: $15 adults, $10 student/senior
Jeff just had a really bad break-up. Seriously, he thought he would be with this woman for the rest of his life but the relationship fell apart. Determined to bounce back, he is forcing himself to date a wide selection of women on a regular basis. He's also decided to have all these dates at the same restaurant. Which is certainly piquing the interest of the waitstaff!
Of course, when you force yourself to date like that, you're not always going to pick the most normal of people. In fact, you're going to end up going out with a lot of nutcases! And that's what happens with Jeff. From ultra-forthright bullies who are more sexually-aggressive than he is, to super-millitant feminists who spend the evening making him feel guilty for being male, Jeff encounters the full spectrum of crazies. Some of them he even asks for a second date!
Things get even more insane when Jen, a waitress working at the restaurant Jeff frequents is inspired by his idea and starts doing the same thing during Act Two!
"Adventures In Dating" will be performed by just two actors – one male, one female. They will assume over 20 characters between the two of them!
Location
Walkerville Artist Co-Op
1974 Wyandotte Street
Windsor, Ontario