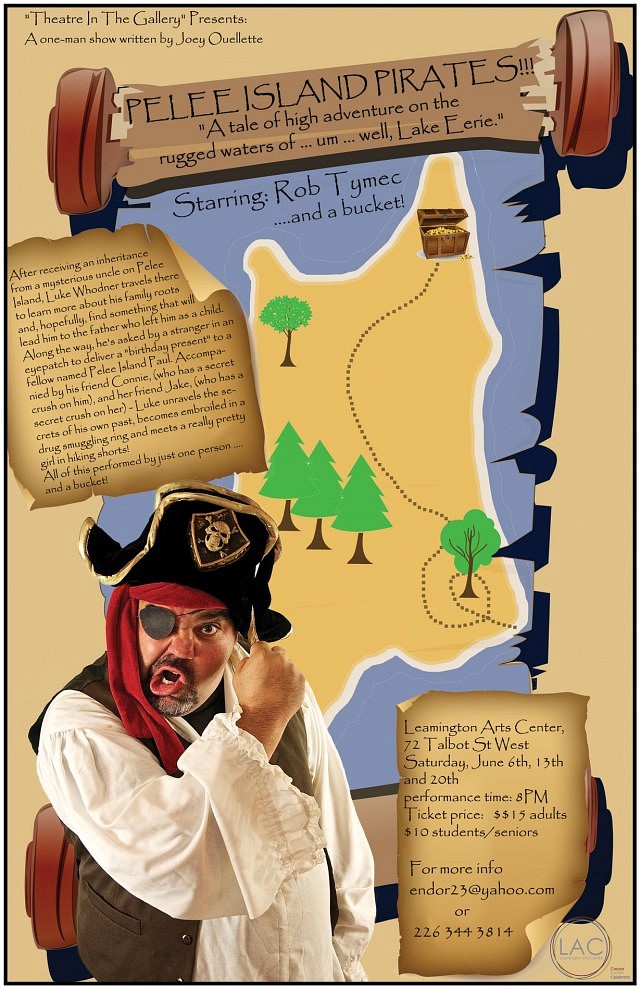 "A tale of high adventure on the rugged waters of … um … well, Lake Eerie."
Starring: Rob Tymec
Special Guest Star: A bucket!!
Saturday, June 6th, 13th and 20th at 8pm
Ticket price: $15 adults
$10 students/seniors
After receiving an inheritance from a mysterious uncle on Pelee Island, Luke Whodner travels there to learn more about his family roots and, hopefully, find something that will lead him to the father who left him as a child. Along the way, he's asked by a stranger in an eyepatch to deliver a "birthday present" to a fellow named Pelee Island Paul. Accompanied by his friend Connie, (who has a secret crush on him), and her friend Jake, (who has a secret crush on her) – Luke unravels the secrets of his own past, becomes embroiled in a drug smuggling ring and meets a really pretty girl in hiking shorts!
All of this performed by just one person …. and a bucket!
For more info call: 226 344 3814 or email: [email protected]
Location
Leamington Arts Center
79 Talbot Street West
Leamington, Ontario