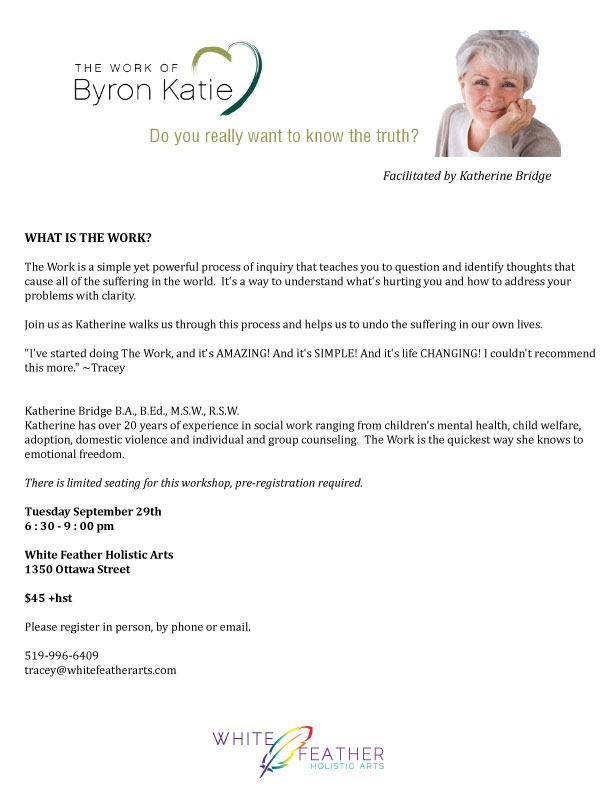 WHAT IS THE WORK?
The Work is a simple yet powerful process of inquiry that teaches you to question and identify thoughts that cause all of the suffering in the world. It's a way to understand what's hurting you and how to address your problems with clarity.
Join us as Katherine walks us through this process and helps us to undo the suffering in our own lives.
"I've started doing The Work, and it's AMAZING! And it's SIMPLE! And it's life CHANGING! I couldn't recommend this more." ~Tracey
Katherine Bridge B.A., B.Ed., M.S.W., R.S.W.
Katherine has over 20 years of experience in social work ranging from children's mental health, child welfare, adoption, domestic violence and individual and group counseling. The Work is the quickest way she knows to emotional freedom.
*there is limited seating for this workshop, pre-registration required
Tuesday September 29th
6 : 30 pm – 9 : 00 pm
White Feather Holistic Arts
1350 Ottawa Street
$45 +hst
Please register in person, by phone or email at
519-996-6409
[email protected]
Location
White Feather Holistic Arts
1350 Ottawa Street
Windsor, Ontario