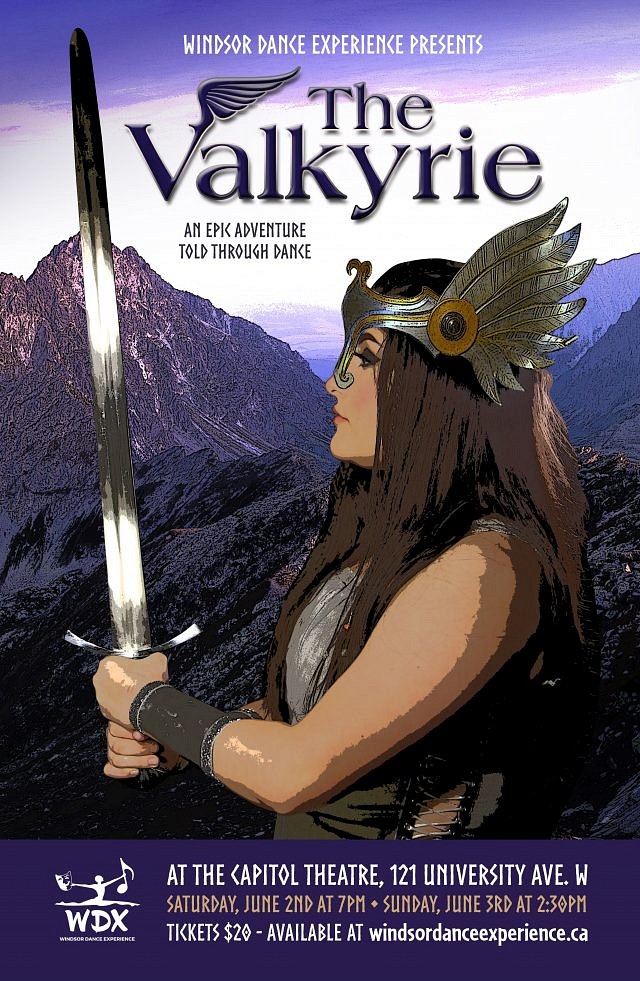 In Norse Mythology, the Valkyrie are a group of mythical female warriors sent by the god, Odin, to collect the slain on the battlefield for the afterlife. In a moment of compassion, young Valkyrie Brunhilde saves a mortal's soul and is cursed for disobeying Odin. She descends into a whirlwind of love, deception, and loss in this epic tale inspired by the Norse Saga.
Come and enjoy this epic battle of 40 local youth dancers (ages 13-28) executing various styles of dance and combat with vibrant costumes, brilliant lights and sets. For more information or to reserve your seats email [email protected] To see what this company is all about you can also visit us on facebook or on our website, www.windsordanceexperience.ca
Windsor Dance eXperience Inc. (WDX) is a non-profit theatrical dance company dedicated to giving local kids an outlet for their creative and physical activities. It is unique in its efforts to make dance and the theatre experience available to anyone passionate about performing, regardless of his or her background in the arts.
Love to dance or know someone who does? We produce 2-3 theatrical dance productions a year,summer camp​​ and offer drop in technique classes. Find out more about registration and classes.
Location
Capitol Theatre
121 University Ave W
Windsor, Ontario