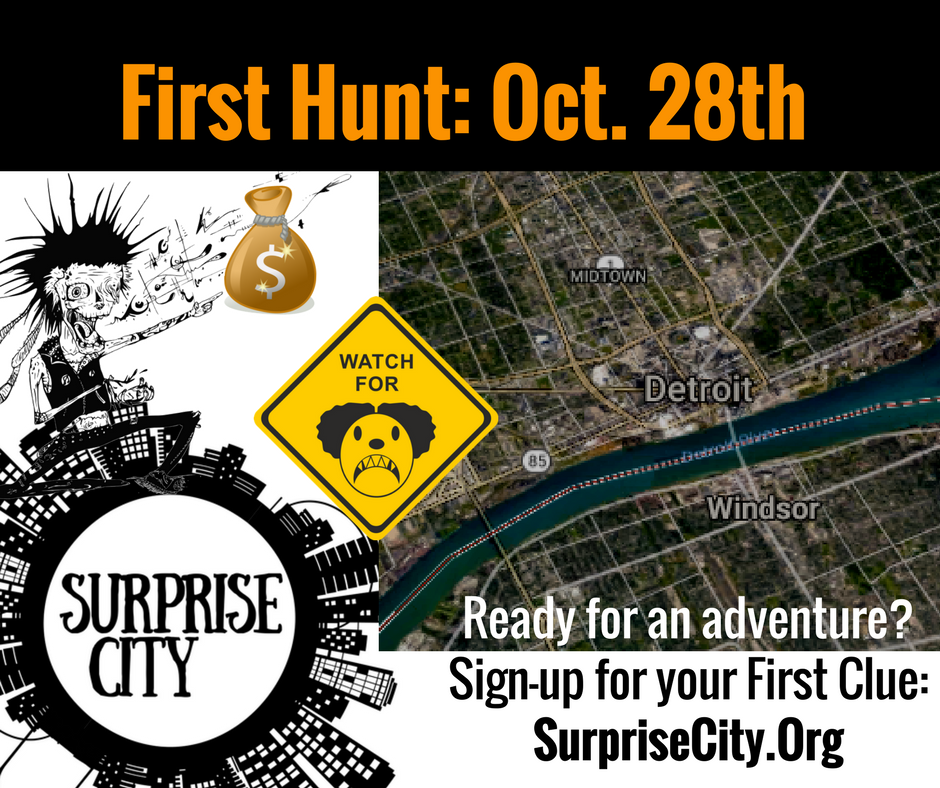 Welcome to Surprise City.
These crazy, exciting, scavenger hunt style adventures will take you or your team through the streets of Windsor and Detroit with stops at various locations including parks, iconic landmarks, bars, riverfronts and back alleys.
Participants you must first choose an adventure, register at SurpriseCity.org. Your first clue will tell you what city or cities will be hunted. On the date of the hunt, you or your team will head out with various clues and mysterious hints to guide you to a prize.
Navigate the city streets in our very first haunted hunt to twisted treasures.
19 + Event:
Sat. Oct. 28 – noon – 11:59 p.m.
Individual Entry: $15
Couples: $20
Teams of 4 – $40
Kid-Friendly – $15:
Sat. Oct. 28 – 11 a.m. – 3 p.m.
*Treasures hidden throughout routes*
*Finders/Keepers Rules Apply*
*Costumes = Extra Clues + Prizes*
*Cash Treasure Only Available in 19+ Hunt*
Register you or your team at SurpriseCity.org .
Location
....it's a Surprise