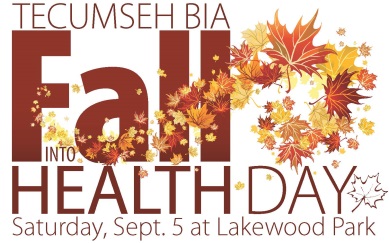 FREE ADMISSION – ALL AGES
Visit TecumsehBIA.com/fallhealthday
Health & Wellness Materials
Kids' Zone by HighJinks
Health & Sporting Demonstrations
Door Prizes & Free Samples
Food Prep Demonstrations
Food Vendors
Medical Esthetics
Alternative Therapies and more!
This is a FREE EVENT where people can PARTICIPATE and enjoy door prizes, free samples, health and wellness, sporting and food demonstrations, and a kids' zone monitored by High Jinks. The event is for all ages within the Windsor/Essex County. Join us!
11am to 5pm
Location
Lakewood Park
13451 Riverside Drive East
Tecumseh, Ontario