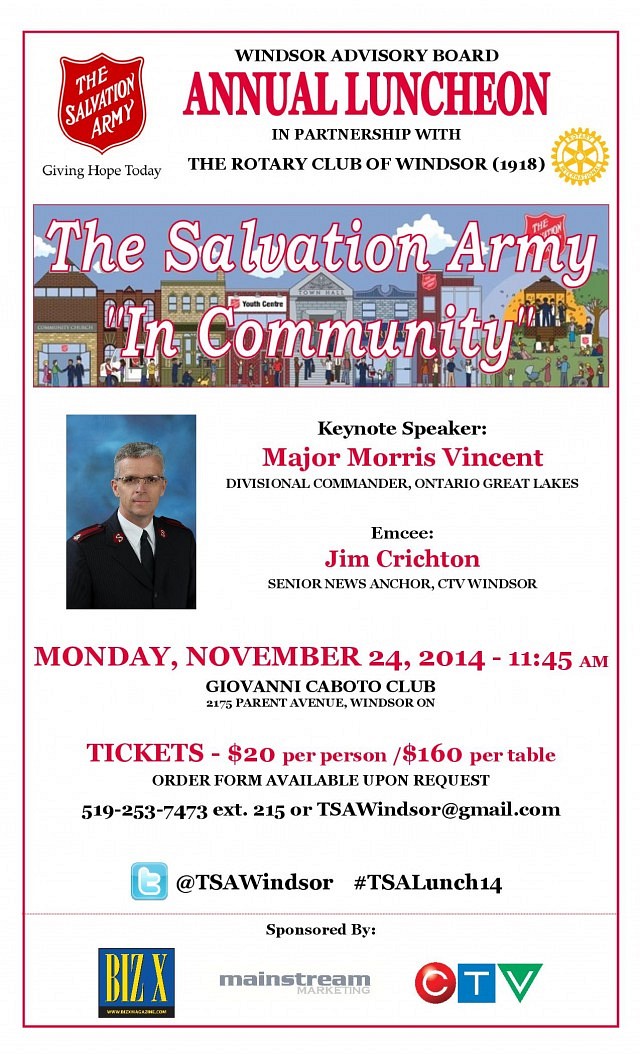 In partnership with the Rotary Club of Windsor (1918)
This year's theme is The Salvation Army "In Community".
Special guests include our keynote speaker, Major Morris Vincent, Divisional Commander for the Ontario Great Lakes Division of The Salvation Army. Major Vincent will focus on the Army's recent strategic plan.
Our Master of Ceremonies is Jim Crichton, Senior News Anchor – CTV Windsor.
Monday, November 24, 2014
11:45 a.m.
Giovanni Caboto Club, 2175 Parent Avenue
Tickets – $20 per person /$160 per table
Order form available upon request
519-253-7473 ext. 215 or [email protected]
Sponsored By:
Biz X Magazine
Mainstream Marketing
CTV Windsor
Follow us on Twitter: @TSAWindsor #TSALunch14
Location
Giovanni Caboto Club
2175 Parent Avenue
Windsor, Ontario