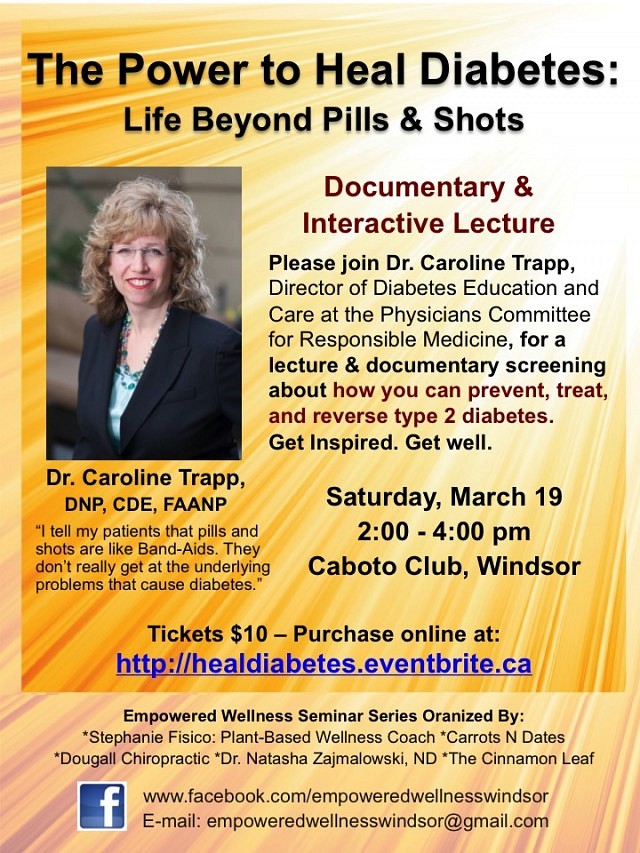 Obesity and type 2 diabetes are reaching epidemic proportions in our community. These are diseases heavily influenced by lifestyle risk factors and prescription drugs are like Band-Aids- they do not get at the underlying problems that cause the disease. Please join Dr. Caroline Trapp, Director of Diabetes Education and Care at the Physicians Committee for Responsible Medicine, for a lecture & documentary screening about the causes and how you can prevent, treat, and reverse type 2 diabetes. Get Inspired. Get well.
This is the third event of the Empowered Wellness Seminar Series.
Tickets are $10- please purchase online at:
http://healdiabetes.eventbrite.ca
This is a non-profit event – all proceeds to go to cover cost of event, speaker expenses, and future Empowered Wellness Windsor seminar series.
Location
Caboto Club
2750 Parent Avenue
Windsor, Ontario