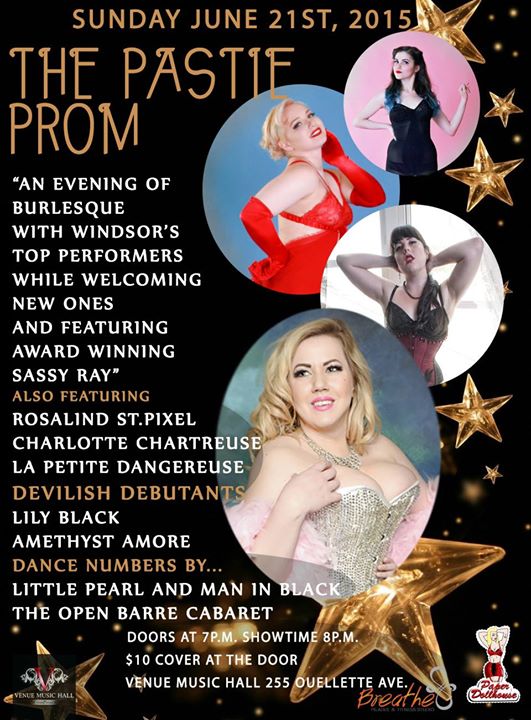 $10 at the door
Dig out that old prom dress because the girls are graduating and they're ready to put on the performance of a lifetime! For over a year the local performers have been working on their teasing skills and this upcoming Father's Day weekend they'll be letting loose and showing you the results of all that hard work.
Dress up in your prom attire or come as you are, and who knows, you might be crowned Prom King or Queen!
Presented by Paper Dollhouse Pin Up Photography, Sassy Ray Burlesque, Breathe Pilates and Fitness Studio and Venue Music Hall,and featuring the return of Hostess Sassy Ray.
Entertainment for the night includes Burlesque performances by:
-Sassy Ray,
-Charlotte Chartreuse,
-La Petite Dangereuse,
-Rosalind St. Pixel,
-Devilish Debutantes of the Evening,
-Lily Black, and
-Amethyst Amore
plus dance acts from:
-The Open Barre Cabaret, and
-Little Pearl and The Man in Black.
Music brought to you by D.J. Aaron Mavrinac,
Door Ladies Candice Brady, Amber Gambriel, and Kitten Tracy Pringle.
It's also a special weekend for our producer; Terror is turning 32! We'd barely have a burlesque community without her, so come support her hard work, she couldn't think of a better present!
Location
Venue Music Hall
255 Ouellette Avenue
Windsor, Ontario