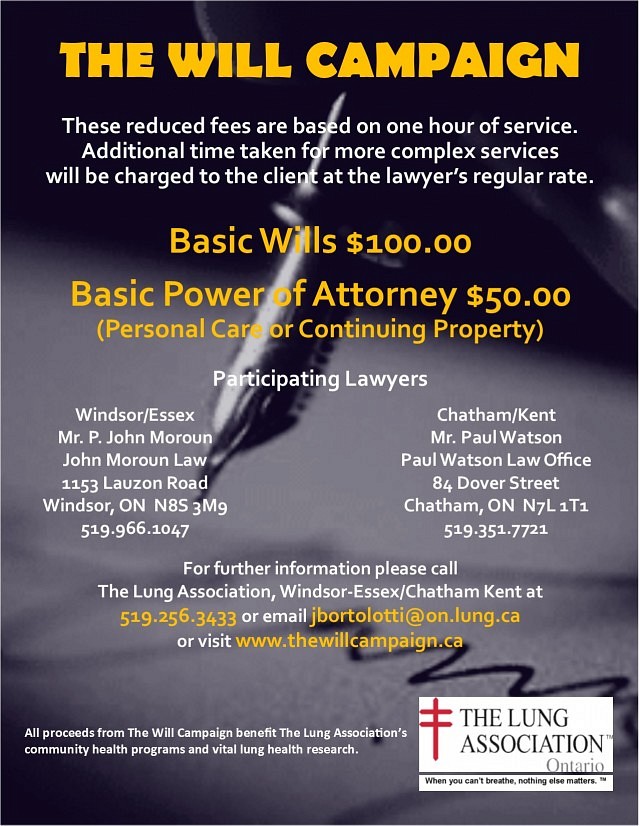 A recent survey found that more than half of Canadian adults do not have a signed will. Many people believe that they don't need a will until they have children or significant assets but that is not the case, says Melanie Giroux, barrister, solicitor, notary public and volunteer for the Ontario Lung Association Will Campaign. "When you reach the age of majority, that is the right time to prepare a will," she says.
If you haven't prepared a will or power of attorney yet, the Ontario Lung Association Will Campaign is here to help. Participating lawyers donate their time to prepare wills and powers of attorney. Clients pay $100 for a will and $50 for each power of attorney, with all proceeds going to help Ontarians with lung disease or to fund life-saving lung research. Clients can find a participating lawyer in Windsor or Chatham by calling The Lung Association office at 519.256.3433.
The Will Campaign's volunteer lawyers see value in giving to The Lung Association but also in giving their clients peace of mind. "When I went to prepare my will I wasn't sure what to expect," says Leslie Olsen, who participated in the Will Campaign along with her daughter. "Our lawyer asked all the right questions to guide us through the process. It was very easy and comfortable. I also love the fact that I am giving a gift to The Lung Association."
Are you ready to prepare your will and powers of attorney?
About the Ontario Lung Association
The Lung Association is a registered charity that assists, educates and empowers individuals living with or caring for others with lung disease. The Lung Association provides programs and services to patients and health-care providers, invests in lung research and campaigns for improved policies on lung health. Information about lung health issues is available through the Lung Health Information Line 1-888-344-LUNG (5864) or at [email protected]
Location
The Lung Association, Windsor-Essex/Chatham-Kent
647 Ouellette Avenue
Windsor, Ontario