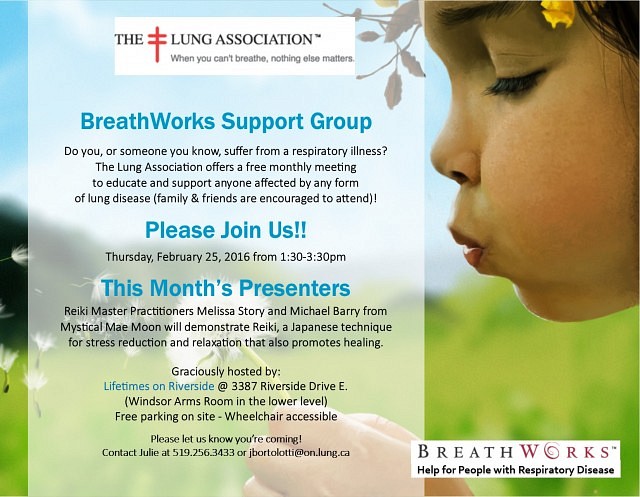 Reiki is a Japanese technique for stress reduction and relaxation that also promotes healing. It is administered by "laying on hands" (without physically touching) and is based on the idea that an unseen "life force energy" flows through us and is what causes us to be alive. If one's "life force energy" is low, then we are more likely to get sick or feel stress, and if it is high, we are more capable of being happy and healthy.
Reiki treats the whole person including body, emotions, mind and spirit creating many beneficial effects that include relaxation and feelings of peace, security and wellbeing. Many have reported miraculous results.
The Lung Association is pleased to welcome Reiki Master Practitioners Melissa Story and Michael Barry at its monthly support group meeting on Thursday, February 25. The group will meet at Lifetimes on Riverside (3387 Riverside Dr. E. at Strabane) from 1:30-3:30pm and we encourage anyone living with lung health issues to join us for this free, informal session (and we encourage you to bring along a friend, family member or caregiver as well).
Please call Julie at 519-256-3433 if you have any questions about our support group or if you plan to attend.
Location
Lifetimes on Riverside
3387 Riverside Drive East
Windsor, Ontario