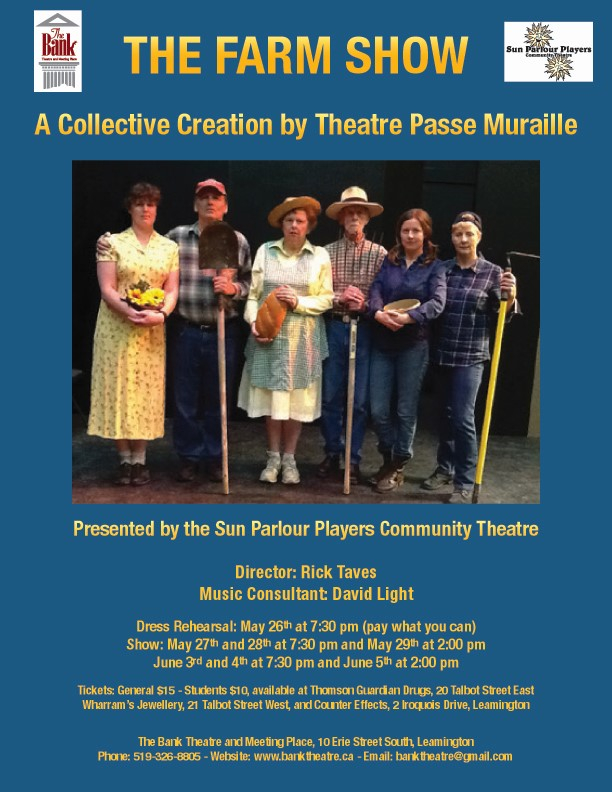 Please join us for the highly anticipated Farm Show. The Farm Show is a series of living tableaux based on the lives of the members of a farming community forty years ago. Sentimental, joyous, sad, infectiously funny, and foot stomping good!
Presented By: The Sun Parlour Players Community Theatre
Director: Rick Taves
Music Consutant: David Light
Where: The Bank Theatre and Meeting Place, 10 Erie Street South, Leamington
When:
Dress Rehearsal: May 26th at 7:30 pm. (pay what you can)
Show: May 27th and 28th at 7:30 pm. and May 29th at 2:00 pm. and June 3rd and 4th at 7:30 pm. and June 5th at 2:00 pm.
Tickets are $15. (students $10.) available at Thomson Guardian Drugs, 20 Talbot Street East, Wharram's Jewellery, 21 Talbot Street West, and Counter Effects, 2 Iroquois Drive, Leamington, On.
Telephone: 519-326-8805
Email: [email protected]
Location
The Bank Theatre and Meeting Place
10 Erie Street South
Leamington, Ontario