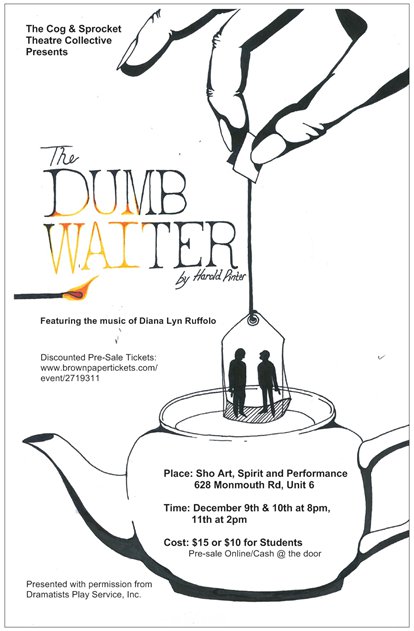 The Dumb Waiter is a small yet perfectly formed one-act play. It combines an atmosphere of menace and working-class small-talk in a claustrophobic setting with an oblique but palpable political edge. The Dumb Waiter is Pinter distilled the very essence of a writer who tapped into our desire to seek out meaning, confront injustice and assert our individuality.
Based one Samuel Beckett's Waiting for Godot, The Dumb Waiter is a dark comedy which focuses on two hit men waiting in a basement for their assignment.
Pre-show music performed live by Diana Ruffolo.
Discounted Pre-sale tickets available at
http://www.brownpapertickets.com/event/2719311
Or cash at the door.
$15 or $10 for Students
Location
Sho Art, Spirit and Performance
628 Monmouth Rd, Unit 6
Windsor, Ontario