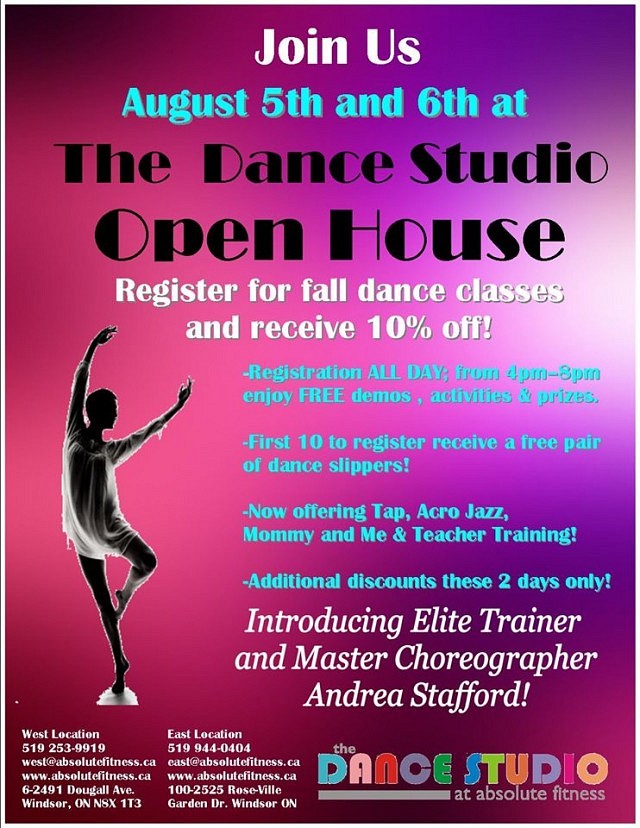 The DANCE STUDIO at absolute fitness will be hosting an OPEN HOUSE on Tuesday August 5th and Wednesday August 6th from 4pm-8pm. Our studio is proud to now offer TAP, ACRO JAZZ ,Mommy & Me and MORE!! Join us from 4-8pm for a variety of demonstrations, activities, draws and giveaways. There are many prizes to be won including a month free classes!
Exciting things are happening this fall! We are privileged to introduce Elite Trainer and Master Choreographer Andrea Stafford! She is teaching classes as well as offering a teacher training course for ambitious students looking to further their dance careers. Andrea will be at our event for a meet and greet!
Registration will be open ALL DAY with a 10% discount on classes! Also we are giving away free dance slippers to the first 10 registered students! Additional discounts to will be offered to multiple classes don't forget to ask about our family incentives.
For additional information call West at 519-253-9919 or East at 519-944-0404. See you there!
POSTS
Location
The Dance Studio at absolute fitness
2491-6 Dougall Ave and 2525 Roseville Garden Dr.
Windsor, Ontario