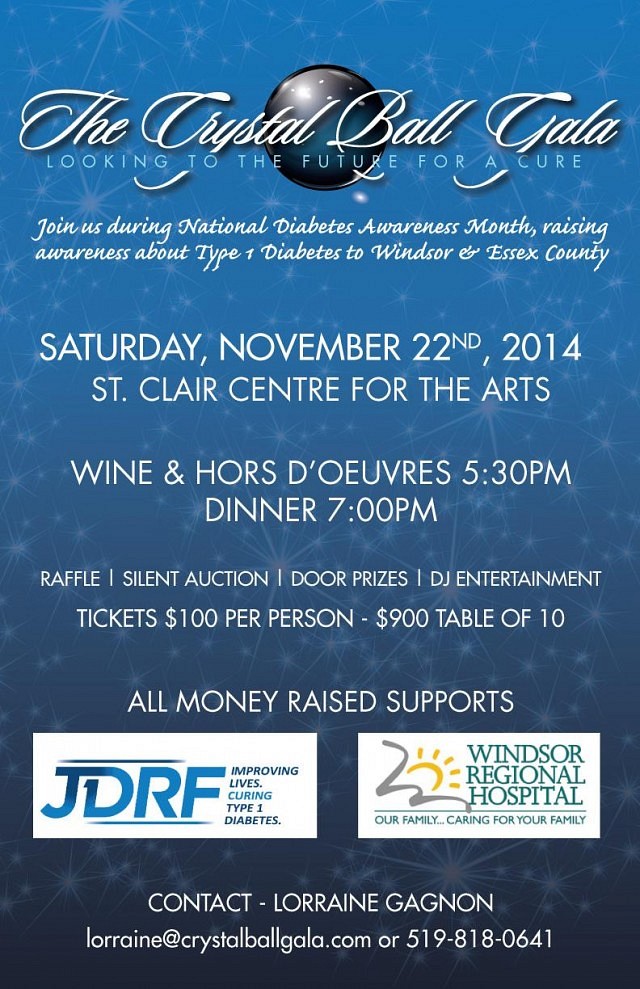 As November is "Diabetes Awareness Month" we feel it appropriate to have the gala in November and also have the opportunity to host your friends, family and co-workers to a funfilled "Holiday Gala Event". If you haven't made plans for your company "Holiday Party" yet, consider The Crystal Ball Gala.
Funds raised from this event help benefit children living with Type 1 diabetes. This type of diabetes affects only 10% of the diabetic population, with the pancreas seizing to function in the production of insulin. Once someone is diagnosed with Type 1, their pancreas will never produce insulin in their lifetime and they are required to endure daily injections of insulin to regulate their blood sugar. This chronic disease affects over 250 children in the Windsor & Essex County area alone and continues to increase! These children are cared for by the wonderful medical staff of the Windsor Regional Hospital Pediatric Metabolic Unit.
We want to find a cure! With that goal in mind, we continue to hold and support fundraising, with the Crystal Ball Gala being our premier event. We have raised over $80,000 in the past 3 galas. We are soliciting your financial support for this event by offering a variety of sponsorship opportunities that you will find on the following page. We are hopeful that you will consider one of these options and to be a part of finding a cure. If you have any questions, or would like for one of us to speak to your business personally, please do not hesitate to get in contact using the information provided below. As chairperson of this event, and a parent of a child living with this chronic disease, we are passionate about making this event as successful as possible, and with your support, many children will benefit from this success.
Location
St. Clair Centre for the Arts
201 Riverside Drive West
Windsor, Ontario