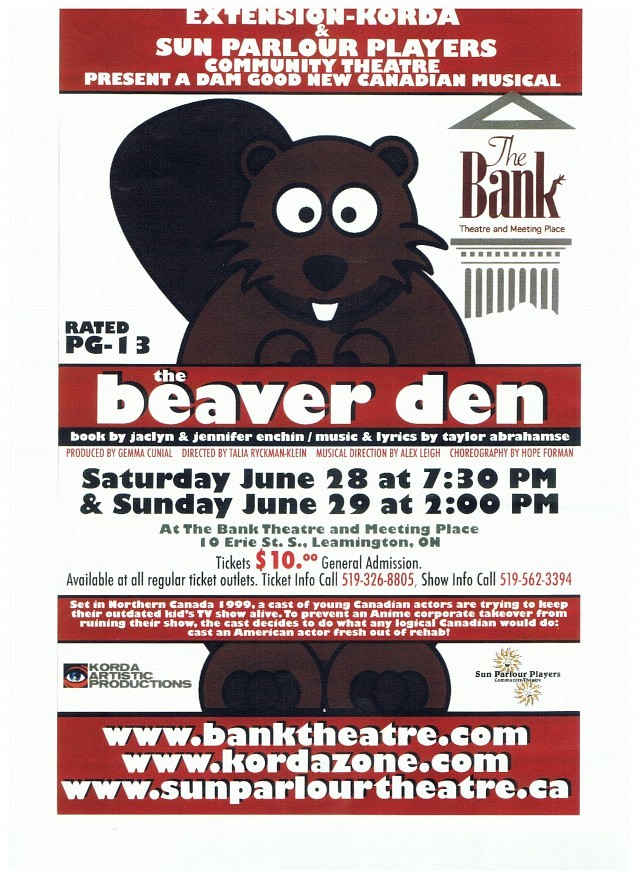 Extension-Korda and Sun Parlour Players Community Theatre present "the beaver den," a dam good new Canadian musical, on Saturday, June 18th at 7:30 p.m. and on Sunday, June 29th at 2:00 p.m. at The Bank Theatre and Meeting Place, 10 Erie Street South, Leamington.
Set in Northern Canada in 1999, a cast of young Canadian actors are trying to keep their outdated kid's TV show alive. To prevent an Anime corporate takeover from ruining their show, the cast decides to do what any logical Canadian would do: cast an American actor fresh out of rehab!
General admission is $10.00 available at all ticket outlets. For ticket information call: 519-326-8805. For show information call: 519-562-3394.
Location
The Bank Theatre and Meeting Place
10 Erie Street South
Leamington, Ontario