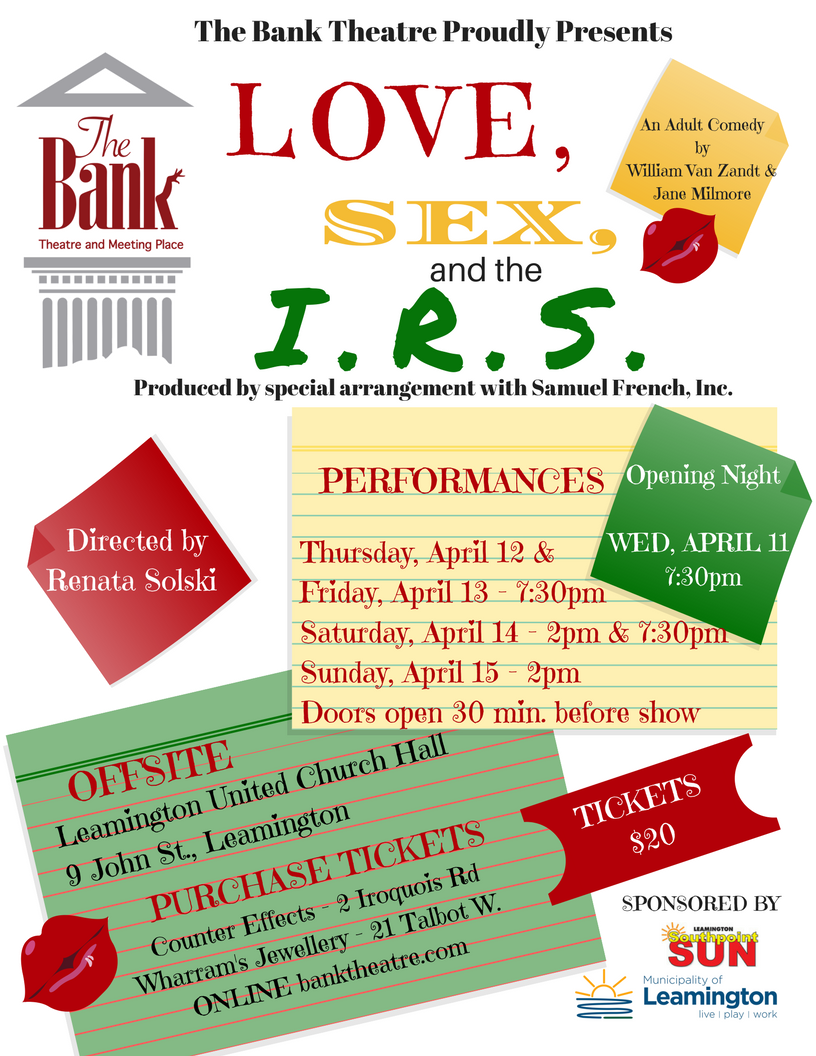 The Bank Theatre Proudly Presents Love, Sex, and the I.R.S
Directed by Renata Solski
Produced by special arrangement with Samuel French, Inc.
An Adult Comedy by William Van Zandt & Jane Milmore
Two young unemployed musicians, Jon & Leslie, try to save money by filling out their tax returns as a married couple. A visit from a lonely IRS auditor, one young man's girlfriend, the other young man's mother and a suspicious landlord, all at once, throw the two guys into a cross-dressing frenzy of cover-ups, half lies, outright lies, and even some home truths. A bedroom farce on steroids!
Opening Night – Wednesday, April 11 – 7:30pm
Thursday, April 12 & Friday, April 13 – 7:30pm
Saturday, April 14 – 2pm & 7:30pm
Sunday, April 15 – 2pm
OFFSITE – Leamington United Church Hall
9 John St., Leamington
Tickets $20 per person per show
Available at Counter Effects – 2 Iroquois Rd
Wharram's Jewellery – 21 Talbot W.
ONLINE https://lovesexandtheirs.bpt.me
Sponsored by the Municipality of Leamington and Southpoint Sun
www.banktheatre.com
Location
Leamington United Church Hall
9 John St.
Leamington, Ontario