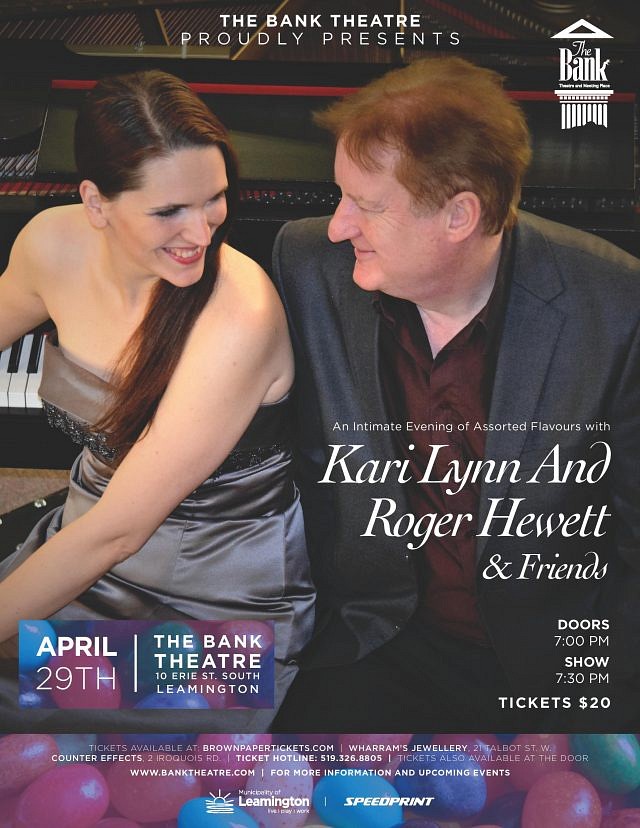 The Bank Theatre Presents
An Intimate Evening with Kari Lynn and Roger Hewett
Saturday, April 29 at 7:30 PM Doors 7:00 PM
Tickets $20
ONLINE TICKETS http://www.brownpapertickets.com/event/2898708
Available soon at
LEAMINGTON OUTLETS
Counter Effects – 2 Iroquois Rd.
Wharram's Jewellers 21 Talbot St. W
Having unpacked their suitcases and closed storage units around the globe following an intensive touring schedule with Cirque du Soleil, musical duo Kari Lynn and Roger Hewett are now calling Leamington their home base.
Yet, the draw of the stage, the yearning to perform and the old adage 'the show must go on' ensures we'll see the exquisite musical stylings of Kari Lynn and Roger Hewett in the area. The Bank Theatre proudly presents "Assorted Flavours: an Intimate Evening with Kari Lynn and Roger Hewett", Saturday, April 29 at 7:30pm.
Kari Lynn of Stevens Point, Wisconsin, and Roger Hewett, originally
from Norwich, England, met as Roger was touring the U.S. as musical director with Cirque du Soleil's 'Corteo.' The rest, as they say, is the continuation of a love story in the making, each drawn to the other by their passion for the arts, their love of performance and the world-wide stage.
Kari Lynn is a versatile, classically trained vocalist, skilled
lyricist and singer-songwriter whose artistic talents are virtually
limitless in a variety of genres from musical theatre to classic rock.
Roger is a highly sought-after composer, orchestrator, and musical
director whose works include film and television scores for Paramount, Disney, Alliance Atlantis, and Cirque du Soleil.
Roger has written material, arranged, orchestrated and directed events such as Queen Elizabeth ll Canadian visits, the Montreal Symphony Orchestra, and the Governor General's Performing Arts Awards, to mention but a few. Kari has crafted many songs over the years and the couple have combined their talents to create a passionate, and enthralling original portfolio of material, recorded on tour around the world including Germany, France, England, Colombia, Brazil, and Argentina.
An evening with Kari Lynn and Roger Hewett promises to be a kaleidoscope of class and quirk with cover and original music set to the masterful piano performances of Roger, presented with the dramatic, elegant flare and singing excellence that is only Kari Lynn. The acclaimed duo will be joined by local musical guests.
www.banktheatre.com
www.rogerhewett.com
www.karilynnhewett.com
Location
The Bank Theatre and Meeting Place
10 Erie Street South
Leamington, Ontario