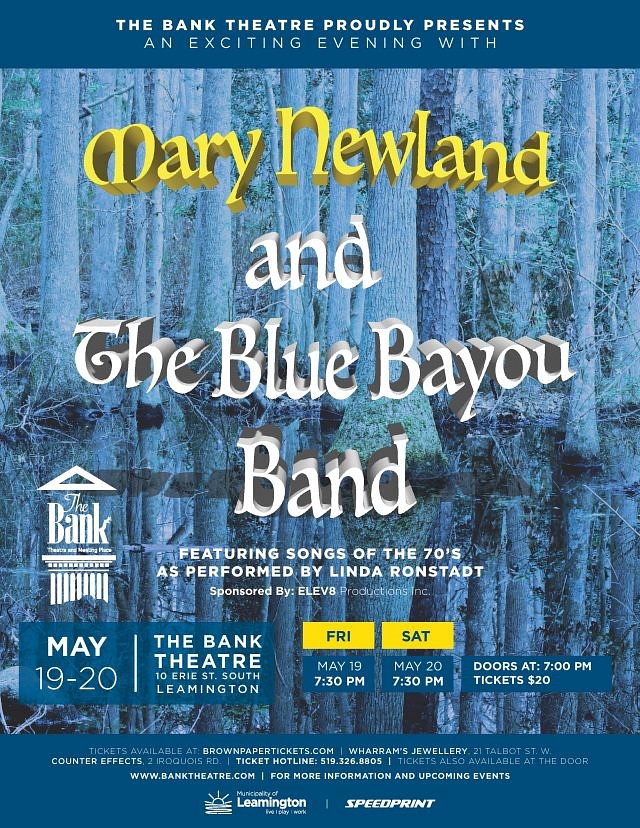 The Bank Theatre Presents An Exciting Evening with
Mary Newland and The Blue Bayou Band
Friday, May 19 and Saturday, May 20
Doors 7pm Concert 7:30pm
Tickets $20 per person per night
Online Tickets http://www.brownpapertickets.com/event/2926951
Leamington Ticket Outlets
Counter Effects 2 Iroquois Rd.
Wharram's Jewellery 24 Talbot St. W.
www.banktheatre.com
The Bank Theatre Presents An Exciting Evening with Mary Newland & The Blue Bayou Band featuring songs from the 70's as performed by Linda Ronstadt.
The Bank Theatre is proud to present an exciting evening with Mary Newland & The Blue Bayou Band on Friday, May 19 and Saturday, May 20 at 7:30pm. Get in on the ground floor of this band's history at The Bank Theatre, located at 10 Erie St. S. in Leamington.
The 1970's was a culturally phenomenal time in music history. Along with the great bands and the memorable music which became the fabric of our lives, among female vocalists no one was more iconic than Linda Ronstadt.
The Blue Bayou Band brings back songs from the catalogue which launched Linda Ronstadt into music history and were etched into our memories where they still reside today.
Mary Newland and her musical director Richard Baker have assembled a topflight band of musicians who all feel the same way about this material and are eager to share it with anyone who longs to revisit a great era in music. Along the way, they also hope to bring a new experience to some who may not have known these great songs. An experience which will undoubtedly stay with them for some time to come. Sponsor for Mary Newland and The Blue Bayou Band – ELEV8 Productions Inc.
The Bank Theatre is located at 10 Erie St. S in Leamington, is accessible and has ample parking. Tickets are $20 per person, per night, and are available in advance by calling 519-326-8805. Tickets may also be purchased at Leamington ticket outlets Counter Effects, 2 Iroquois Road, and Wharram's Jewellers, 21 Talbot Street West. Online tickets are available at http://www.brownpapertickets.com/event/2926951
Tickets, if not sold out, are also available at the door 30 minutes prior to show time.
This concert is sponsored by the Municipality of Leamington. Special thanks to Speedprint and Bradt's Butcher Block for your donations.
For more information please visit www.banktheatre.com and http://bluebayouband.com/
Location
The Bank Theatre and Meeting Place
10 Erie Street South
Leamington, Ontario