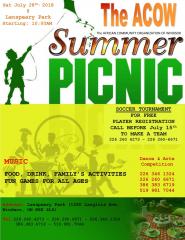 The African Community of Windsor (The ACOW) undertakes many activities during the year. This year 2018 – MULTICULTURAL ANNUAL SUMMER PICNIC is no excuse for coming together as a unit to celebrate this wonderful and breath-taking event. The board of directors of The ACOW would be delighted if you and your family could join us.
The summer picnic showcases our identity as people and promotes the welfare of our diverse community. This event encourages better understanding of our youth, women, men and most of all, our children. This event brings us all together to celebrate and have a fun day out for you, your family, your friends and their families too.
The ACOW Summer Picnic will take place at Lanspeary Park (1250 Langlois Ave, Windsor, ON N8X 4L6) on Saturday, July 28 between 10:00 AM and 7:00 PM. There will be lot of a fun activities, so please come prepare
Also, there are many projects underway to support our youth morally and educationally in our various communities. For this reason, we anticipate and encourage the various groups in our community to partake in this year summer event.
Location
Lanspeary Park
1250 Langlois Avenue
Windsor, Ontario