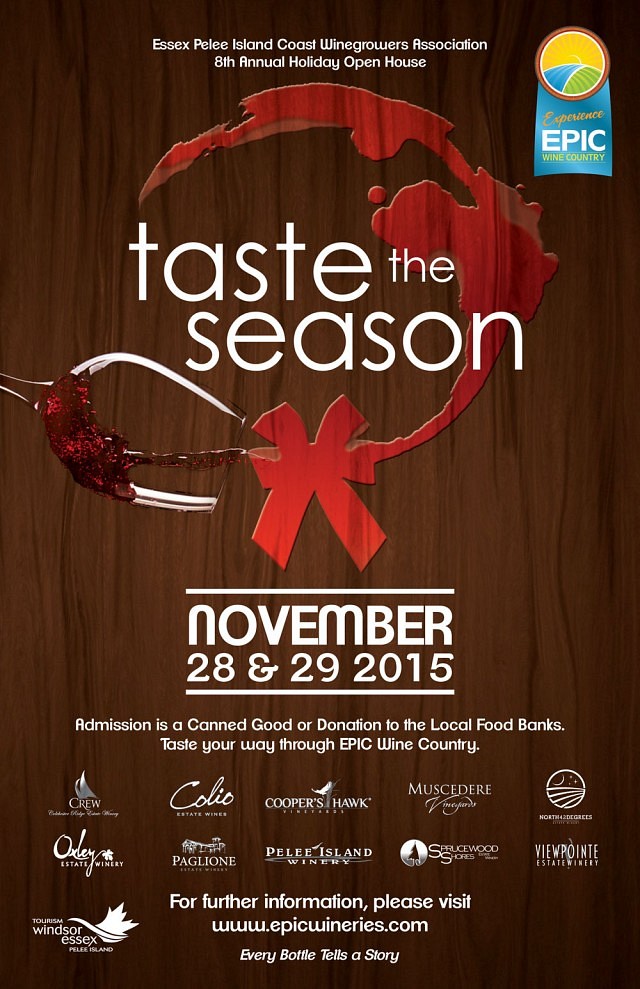 It's that time of year –time to eat, drink and be merry! Your Local EPIC wineries invite you to do exactly that at Taste the Season – their 8th Annual Holiday Open House taking place Saturday & Sunday November 28th and 29th. Tour EPIC Wine Country to experience true Holiday warmth at participating wineries and give back through your canned good or monetary donation at each stop. Each of the 10 participating EPIC Wineries will treat you to a seasonal food and wine pairing, great gift ideas and new this year-enter our photo contest for your chance to win an EPIC grand prize.
Wineries include:
CREW: Colchester Ridge Estate Winery
Colio Estate Winery
Cooper's Hawk Vineyards
Muscedere Vineyards
North 42 Degrees Estate Winery
Oxley Estate Winery
Paglione Estate Winery
Pelee Island Winery
Sprucewood Shores Estate Winery
Viewpointe Estate Winery
Admission is a canned good or donation to the local food banks at each stop.
Location
Varios Wineries
Essex Pelee Island Coast
Harrow, Ontario