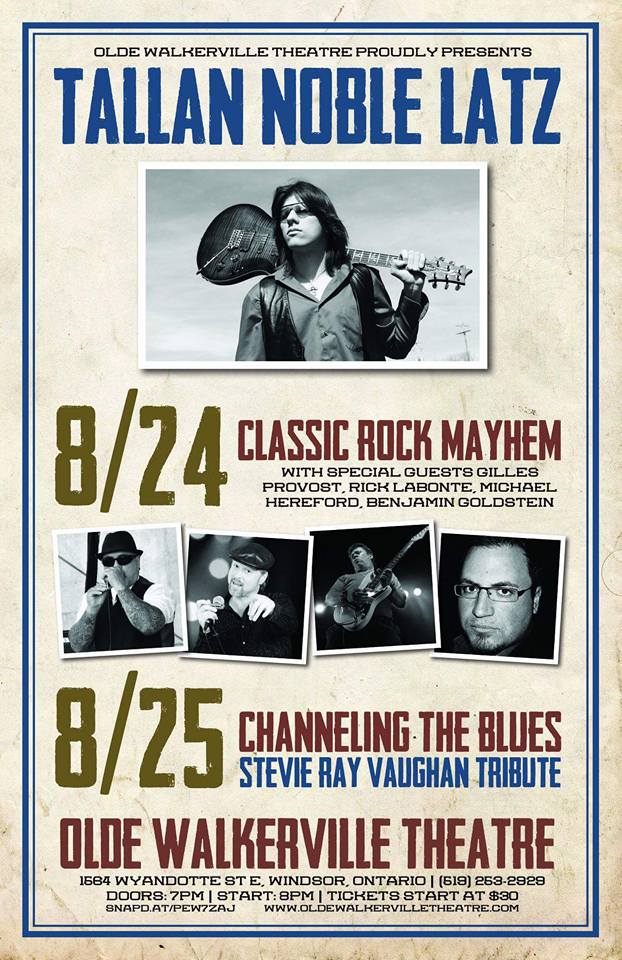 TALLAN NOBLE LATZ
ROAD TESTED, AWARD WINNING and LEGEND APPROVED
Tallan Noble Latz is a YOUNG HIGH ENERGY Guitarist who had the chops of a pro-guitarist before he was out of middle school and had 700 shows under his belt before he could shave.
Tallan has been creating a huge buzz with his FRESH interpretation of music; creating his own style of blues infused progressive rock and roll! His Classic Rock Mayhem Event, his Channeling The Blues Event and his Solo Sessions, have become MUST SEE EVENTS!
QUOTES ABOUT TALLAN
Jackson Browne: "Are you kidding me, did you just see that?"
Joe Bonamassa: "You're a true prodigy!"
Buddy Guy: "Tallan is amazing on guitar!"
Les Paul: " I didn't expect that! You passed the audition!"
Tallan was Ranked #3 in the world as a must see guitarist under the age of 18!
by American Blues Scene Magazine
Tallan will be joined on stage on Friday August 24th by 4 special guest artists. Gilles Provost, accomplished harmonica player from Windsors Award Winning 519 Band. Benjamin Goldstien, Berklee Alumni and Award Winning Concert Pianist. He has music directed several shows and conducts the K.B. Jazz Ensemble and the Westcourt Quartet in New York. Rick Labonte' singer songwriter and front man for 2 popular Windsor bands, The Formula and The Blues Side. Rick has also been inducted into Windsor's Musician Hall of Fame in 2017. Michael Hereford Guitarist for British Beat 66. Michael was one of the first performers to be receive a Windsor Essex County Music Recognition Award.
Saturday August 25th will be Tallan and his band all night opening with his Channeling The Blues and Finishing the night with Stevie Ray Vaughn's Greatest Hits.
DON'T MISS THIS ONE GET YOUR TICKETS NOW!!
Location
Olde Walkerville Theatre
1564 Wyandotte Street East
Windsor, Ontario