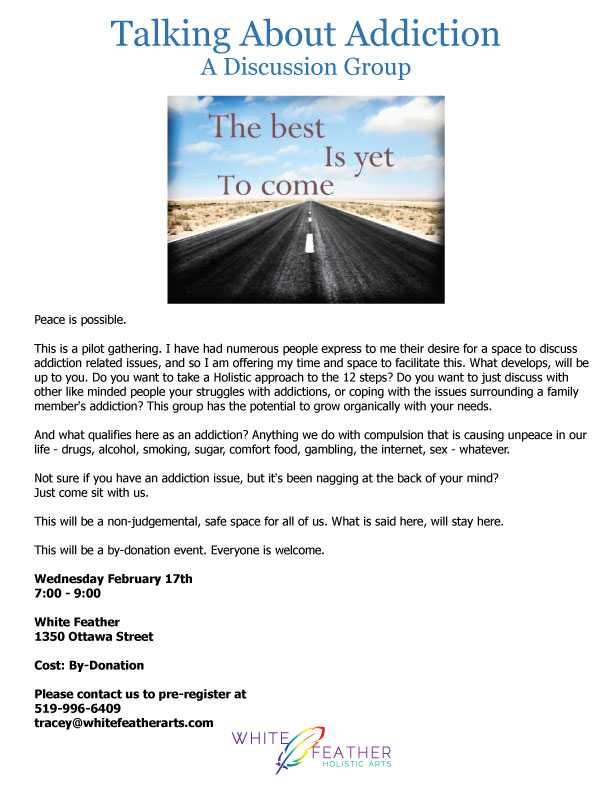 Talking about Addiction
A Discussion Group
Peace is possible.
This is a pilot gathering. I have had numerous people express to me their desire for a space to discuss addiction related issues, and so I am offering my time and space to facilitate this. What develops, will be up to you. Do you want to take a Holistic approach to the 12 steps? Do you want to just discuss with other like minded people your struggles with addictions, or coping with the issues surrounding a family member's addiction? This group has the potential to grow organically with your needs.
And what qualifies here as an addiction? Anything we do with compulsion that is causing unpeace in our life – drugs, alcohol, smoking, sugar, comfort food, gambling, the internet, sex – whatever.
Not sure if you have an addiction issue, but it's been nagging at the back of your mind? Just come sit with us.
This will be a non-judgemental, safe space for all of us. What is said here, will stay here.
This will be a by-donation event. Everyone is welcome.
Wednesday February 17th
7:00 – 9:00
White Feather
1350 Ottawa Street
Cost: By-Donation
Please contact us to pre-register at
519-996-6409
[email protected]
Location
White Feather Holistic Arts
1350 Ottawa Street
Windsor, Ontario