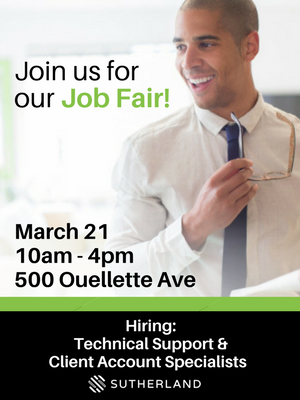 Sutherland is GROWING in WINDSOR!
Our employees in Windsor are performing so well that a marquee client of ours is wanting to bring MORE JOBS TO WINDSOR!
Interested? Please join us for a Job Fair on Tuesday, March 21st. Walk-ins are welcome between the hours of 10 am – 4 pm. Please bring an up-to-date copy of your resume for immediate consideration.
We are hiring for Technical Support and Account Specialist roles.
We offer paid training, career growth opportunities, and employee benefits!
Not able to attend our job fair but would like a member of our recruiting team contact you directly, visit:
http://bit.ly/sutherlandcareer to leave your contact information. You may also give us a call at: 519-254-7430.
Location
Sutherland
500 Ouellette Ave
Windsor, Ontario