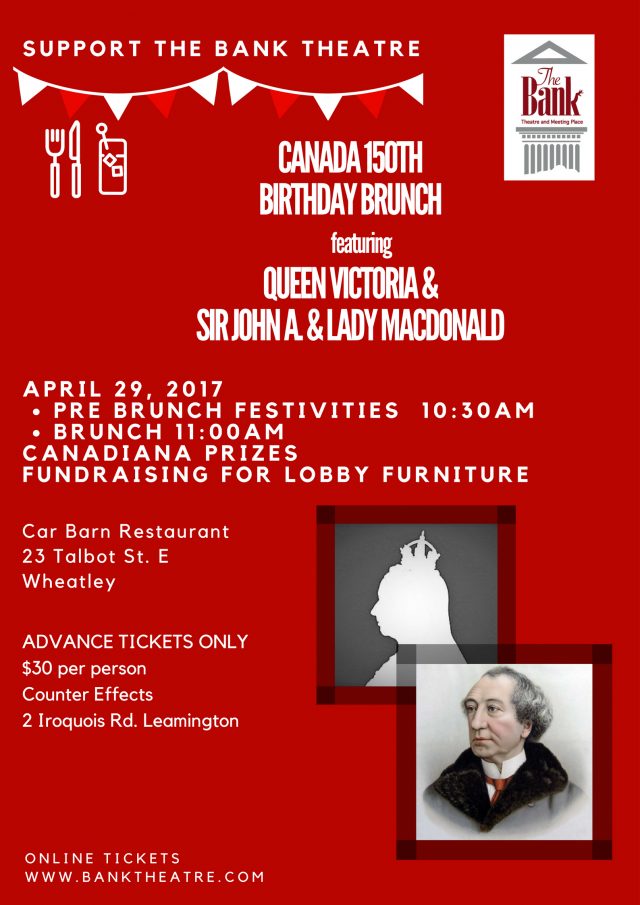 Support The Bank Theatre
Canada 150th Birthday Brunch Fundraiser for lobby furniture.
Guess Who's Coming To Brunch?!!
Canada's 150th Birthday Brunch.
Saturday, April 29, 2017
Pre Brunch 10:30am
Brunch 11am
The Car Barn Restaurant
23 Talbot St. East
Wheatley
ADVANCE tickets only
Tickets are $30
Counter Effects, 2 Iroquois Rd in Leamington,
Online Tickets http://150brunchfundraiser.bpt.me/
Who is coming to this Birthday Brunch Fundraiser? Well, there's Queen Victoria, Sir John A. MacDonald and his new bride, Susan Agnes and a letter has been sent to a certain gentleman in Ottawa.
Visit our website www.banktheatre.com
Location
Car Barn
23 Talbot St. E. Wheatley