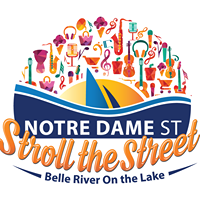 Stroll the Street is a community event bringing people together with local business. Add music, food and entertainers and you have a big four block party for ALL ages to enjoy!
Notre Dame Street will close at 5 pm for set up and reopen at 9pm.
Retail and Restaurant businesses will be open during the above hours.
In the event of a forecast for heavy rain, vendors will have the option of using a table and chairs upstairs at the Legion.
Entertainers will be performing there as well as food and drink.
There will also be live entertainment at Ednas BIGGS!
Location
Downtown Belle River
419 Notre Dame Street
Belle River, Ontario